2014 Australian Silver Crocodile 1 oz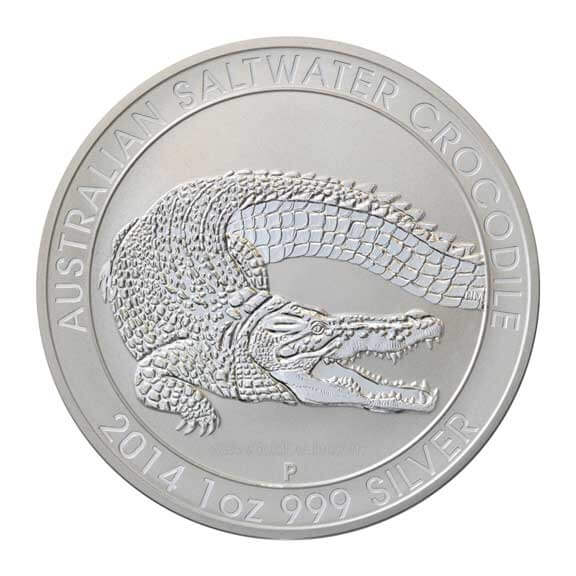 ---
Australia's world famous Perth Mint has released another 1 ounce silver bullion coin in their popular and limited bullion series. The 2014 Australian Silver Crocodile 1 oz is struck from pure silver (.999%) and promises to be another beautiful choice for those who want to increase their silver bullion position with legal tender coins which carry a small premium.
The reverse of the coin features the likeness of a large Saltwater Crocodile and inscriptions surrounding the image include AUSTRALIAN SALTWATER CROCODILE, 2014, 1 oz SILVER and the Perth Mint's historic 'P' mintmark.
Struck as legal tender of Australia under the Australian Currency Act of 1965, Ian Rank-Broadley's likeness of Queen Elizabeth II graces the front of the coin which also includes these inscriptions – ELIZABETH II, AUSTRALIA, and the face value of 1 DOLLAR.
The 2014 Australian Silver Crocodile 1 oz is strikingly beautiful with typical Perth Mint workmanship which is superb. Both sides are a combination of a frosted matte and brilliant surface which produce the lasting contrast so popular with bullion buyers today looking for something different, beautiful which will move directly with the price of silver.
Production of the Australian Silver Crocodile 1 oz is limited to 1 million coins. This "limited" production is small enough to be interesting but large enough to produce the reliable market commonly seen in popular silver bullion products.
And because the Perth Mint quality standards are the highest in the world – traders everywhere can make a close market spread with confidence in this silver bullion product.
The 2014 Australian Silver Crocodile 1 oz  comes from the Perth Mint in a way which is typical of all world mints but Perth has added a few interesting touches. (1) The 2014 Australian Silver Crocodile 1 oz Monster Box (500 coins) is slightly smaller and more compact in construction which makes for easier handling. (2) Within the box are 20 composite plastic tubes and each contains 25 coins making for a total of 500 ounces. The interesting difference here is thoughtful in that these tubes are square making them easy to fill and empty. The tube also comes with a conveniently designed top which is easy to remove and seals securely in place.
The Australian Silver Crocodile 1 oz Monster Box itself is identified with  the distinctive Perth Mint Swan. The color is a lively gray for easy identification and sealed boxes carry two distinctive blue straps.
You can buy or sell the 2014 Australian Silver Crocodile 1 oz from GoldDealer.com in tubes of 25 coins. Or Monster Boxes of 500 coins and our quoted price includes free insured shipping to all 50 states.
Visit our Limited Mintage Bullion Page for our other Wildlife Coins.