Australian Gold Lunar Dog 1 oz Series 1 – 2006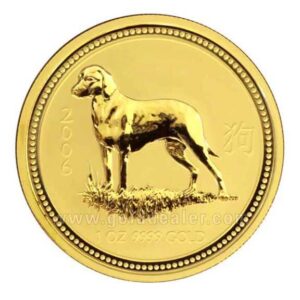 ---
With the Australian Gold Lunar Dog 1 oz Series 1 2006, The Perth Mint did something unique for the Lunar Series. Different breeds of dogs are used on the silver coins than on the gold coins. For the gold coins, The Perth Mint chose a beagle. But, for the silver coins a German shepherd was chosen. Because of the popularity of dogs, sales of the year 2006 Australian Gold Lunar Dog Series 1 coins have been brisk since the coins were released in the fall of 2005.
People born in the Year of the Dog possess the best traits of human nature. They have a deep sense of loyalty, are honest, and inspire other people's confidence. However, Dog People are somewhat selfish, terribly stubborn, and eccentric. They care little for wealth, yet somehow always seem to have money. Dog people can be quite critical and are noted for their sharp tongues, but they make good leaders.
Another reason for the Australian Gold Lunar Dog 1 oz Series 1 coins' popularity is that they are limited production coins. The 1-ounce Lunar Series gold coins are limited to 30,000 coins for each year and clearly have become collector favorites.
Another feature that makes the Australian Gold Lunar Dog 1 oz Series 1 so popular is that The Perth Mint can produce back-dated coins until the production cap is met. This means that the earlier coins are still available and can be purchased near bullion coin prices, permitting collectors who learn of the series late to acquire the earlier coins at bullion coin prices. The policy of minting coins from earlier years is unique to The Perth Mint and for only the Lunar Series coins.
By law, the Australian Gold Lunar Dog 1 oz Series 1 have to display the image of Her Royal Majesty Queen Elizabeth II on the obverse. When the series started in 1996, the official likeness of the Queen was younger. In 1999, however, Buckingham Palace changed the official likeness to a mature Queen, which is carried forward into the Lunar II series. The change resulted in the first three years' coins (1996, 1997, and 1998) having the image of the younger Queen Elizabeth and with the later coins having the mature image.
Visit lunarcollectorcoins for more info on the lunar series