Australian Gold Lunar Goat 1 oz Series 1 – 2003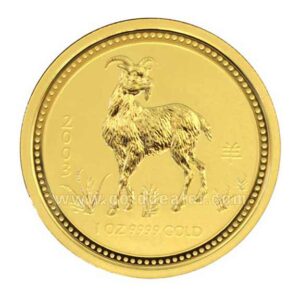 ---
The Australian Gold Lunar Goat 1 oz Series 1 are the eighth coins in The Perth Mint Australian 12-coin Lunar Series. Some Chinese Lunar Calendars call it the Year of the Sheep, but The Perth Mint, after having thoroughly researching the issue, chose to go with the Year of the Goat.
The Australian Gold Lunar Goat 1 oz Series 1 are .9999 fine, which means the gold coins are 24-karat. All Lunar Series coins come individually encapsulated in plastic protective capsules.
People born in the Year of Goat are elegant and highly accomplished in the arts. But Goat people are often shy, pessimistic, puzzled about life, and usually deeply religious. Although sometimes clumsy in speech, they are always passionate about what they do and what they believe in. Goat people also are wise, gentle, and compassionate.
Goat people never have to worry about having the best in life because of their abilities to make money. They thoroughly enjoy the creature comforts they earn. People born in the Year of the Goat are compatible with Rabbits, Pigs, and Horses.
Another reason for the Australian Gold Lunar Goat 1 oz Series 1 popularity is that they are limited production coins. In contrast, Gold Eagles, which are the world's best-selling 22-karat gold coins, and Gold Maple Leafs, the world's best-selling 24-karat gold coins, are unlimited production coins. The Australian Gold Lunar Goat 1 oz Series 1 is limited to 30,000 coins for each year and clearly have become collector favorites.
Another feature that makes the Australian Gold Lunar Goat 1 oz Series 1 so popular is that The Perth Mint can produce back-dated coins until the production cap is met. This means that the earlier coins are still available and can be purchased near bullion coin prices, permitting collectors who learn of the series late to acquire the earlier coins at bullion coin prices. The policy of minting coins from earlier years is unique to The Perth Mint and for only the Lunar Series coins.
By law, the Lunar Series coins have to display the image of Her Royal Majesty Queen Elizabeth II on the obverse. When the series started in 1996, the official likeness of the Queen was younger. In 1999, however, Buckingham Palace changed the official likeness to a mature Queen, which is carried forward into the Lunar II series.
The change resulted in the first three years' coins (1996, 1997, and 1998) having the image of the younger Queen Elizabeth and with the later coins having the mature image.
Visit lunarcollectorcoins for more info on the lunar series