Australian Gold Lunar Monkey 1 oz Series 1 – 2004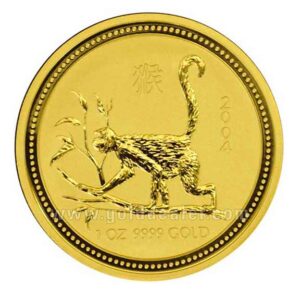 ---
The Australian Gold Lunar Monkey 1 oz Series 1 coin is the ninth in the collectible Perth Mint Australian Lunar Series, which encompasses both gold and silver coins. Some sizes are limited production coins, such as the Australian Gold Lunar Monkey 1 oz Series 1, while others are unlimited production coins. The limited production coins are favorites in the collectible market. The obverse of the Australian Gold Lunar Monkey 1 oz Series 1 coins carries the effigy of a mature Queen Elizabeth, the third official likeness of the Queen during her reign. A younger likeness graces the obverses of the 1996 Mouse, the 1997 Ox, and the 1998 Tiger. In 1998, Buckingham Palace released the third official image of the Queen, and Australia began using it on its coins in 1999. The release of the new effigy resulted in the first three coins in the Lunar Series (the Mouse, the Ox, and the Tiger) carrying a young likeness of Queen Elizabeth, while the remaining nine coins carry a mature Queen Elizabeth.
Of the Australian Gold Lunar Monkey 1 oz Series 1, the limited production one ounce coins appeal to coin collectors and investors. One ounce gold coins always seem to have greater appeal in the collectible market. The smaller coins are used more often for jewelry.
People born in the Year of the Monkey are the erratic geniuses of the cycle. Clever, skillful, and flexible, they are remarkably inventive and original and can solve the most difficult problems with ease. There are few fields in which Monkey people wouldn't be successful, but they have a habit of being too agreeable, which make them not always great leaders.
Monkey year people want to do things now, and if they cannot get started immediately they become discouraged and sometimes leave their projects. Although good at making decisions, they tend to look down on others. Having common sense, Monkey people have a deep desire for knowledge and have excellent memories. Monkey people are strong willed, but their anger cools quickly.
Visit lunarcollectorcoins for more info on the lunar series