Australian Gold Lunar Monkey 1 oz Series 2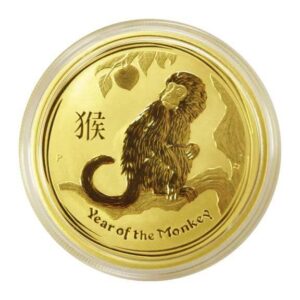 ---
The Australian Gold Lunar Monkey 1 oz Series 2 is the ninth coin in the 12 year cycle of the Chinese lunar calendar. A completely redesigned coin the Series 2 Monkey is slightly larger in diameter although the weight content remains the same. All the gold coins in the Australian Lunar Series are .9999 fine gold, and each coin comes individually encapsulated in a plastic protective capsule.
The workmanship which went into making these legal tender coins from the Perth Mint is superb as are all of their bullion products minted under the Australian Currency Act of 1965. The Monkey is the Chinese symbol of health and wealth and those born under the influence of this sign are said to be intelligent, quick-witted and adventurous. People born in the Year of the Monkey are interested in learning and new experiences. The Monkey is also most compatible with the Dragon and the Mouse.
They are ambitious, optimistic and can be seen as impulsive. Monkeys are smart with their money and opportunities, pictures of monkeys are often placed on doors and walls to bring good fortune and wealth which makes the Australian Gold Lunar Monkey 1 oz Series 2 coin an excellent gift.
The front of the Australian Gold Lunar Monkey 1 oz Series 2 coin features the familiar Queen Elizabeth II and inscriptions include the coin's legal tender value (100 DOLLARS)  the date (2016) and 1 OZ 9999 GOLD. Under the queens picture is the artists initials IRB (Ian Rank Broadley). The legal tender value is largely symbolic but adds a plus to the coin and singles it out as being produced by a sovereign nation.
The reverse of the Australian Gold Lunar Monkey 1 oz Series 2 features a playful monkey sitting in a peach tree, which is symbolic of longevity and immortality. The Chinese character for 'monkey' and the inscription 'Year of the Monkey' also appear in the design with the usual Perth Mint 'P' mint mark.
By law, the Lunar Series coins have to display the image of Her Royal Majesty Queen Elizabeth II on the obverse. When the series started in 1996, the official likeness of the Queen was younger. In 1999, however, Buckingham Palace changed the official likeness to a mature Queen, which is carried forward into the Lunar II series. The change resulted in the first three years' coins (1996, 1997, and 1998) having the image of the younger Queen Elizabeth and with the later coins having the mature image.
Visit lunarcollectorcoins for more info on the Australian Gold Lunar Monkey 1 oz Series 2 and other coins in the lunar series.