Australian Gold Lunar Pig 1 oz Series 1 – 2007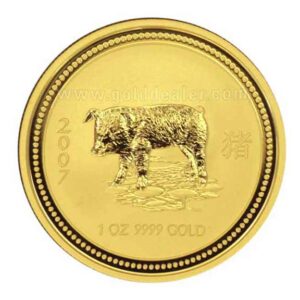 ---
The Australian Gold Lunar Pig 1 oz Series 1 coin completes the gold coins of The Perth Mint's Lunar Series, spanning the years 1996 – 2007.
Because of the popularity of the Lunar Series and because Series collectors have moved to complete their collections, sales of the Australian Gold Lunar Pig 1 oz Series 1 coins were strong when the Pigs were released in the fall of 2006. Actually, the Lunar Series is so well done that many gold bullion investors have bought all the coins of Lunar Series, thus becoming collectors. Truly, the Perth Mint's Lunar Series is the most exciting coin series to be introduced in decades.
People born in the Year of the Pig are thought to be honest, tolerant and loyal friends, but they tend to expect the same from everyone else, and more often than not they end up disappointed. Pigs thrive in the arts as entertainers and can make skilled lawyers.
Another reason for the Australian Gold Lunar Pig 1 oz Series 1 coins' popularity is that they are limited production coins. The 1-ounce Lunar Series gold coins are limited to 30,000 coins for each year and clearly have become collector favorites.
Another feature that makes the Australian Gold Lunar Pig 1 oz Series 1 so popular is that The Perth Mint can produce back-dated coins until the production cap is met. This means that the earlier coins are still available and can be purchased near bullion coin prices, permitting collectors who learn of the series late to acquire the earlier coins at bullion coin prices. The policy of minting coins from earlier years is unique to The Perth Mint and for only the Lunar Series coins.
By law, the Lunar Series coins have to display the image of Her Royal Majesty Queen Elizabeth II on the obverse. When the series started in 1996, the official likeness of the Queen was younger. In 1999, however, Buckingham Palace changed the official likeness to a mature Queen, which is carried forward into the Lunar II series. The change resulted in the first three years' coins (1996, 1997, and 1998) having the image of the younger Queen Elizabeth and with the later coins having the mature image.
Visit lunarcollectorcoins for more info on the lunar series