Australian Gold Lunar Set Series 1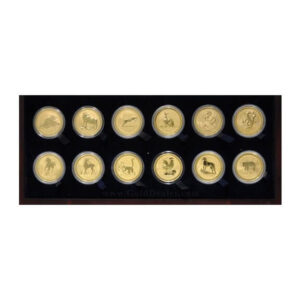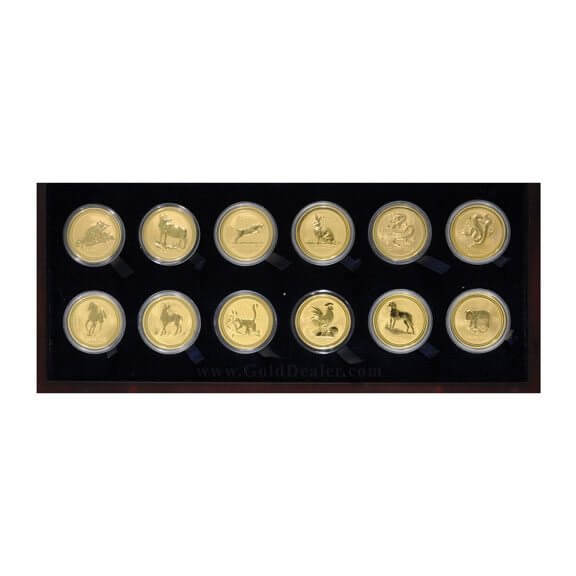 ---
Another reason for the Australian Gold Lunar Set Series 1 popularity is that they are limited production coins. In contrast, Gold Eagles, which are the world's best-selling 22-karat gold coins, and Gold Maple Leafs, the world's best-selling 24-karat gold coins, are unlimited production coins. The Australian Gold Lunar Set Series 1 coins are limited to 30,000 coins for each year and clearly have become collector favorites.
The Year 2000 1-ounce Gold Dragons, the 2001 Gold Snake and the 2002 1-ounce Gold Horses have reached their productions caps and are no longer being produced, so availability is limited to the secondary
market and these coins carry premiums over the coins within the series that have not reached the 30,000-coin production cap.
Limited Production Coins – Australian Gold Lunar Set Series 1
Another feature that makes the Australian Gold Lunar Set Series 1 so popular is that The Perth Mint can produce back-dated coins until the production cap is met. This means that the earlier coins are still available and can be purchased near bullion coin prices, permitting collectors who learn of the series late to acquire the earlier coins at bullion coin prices. The policy of minting coins from earlier years is unique to The Perth Mint and for only the Lunar Series coins.
Somehow, 30,000 became a magical number for the 1-ounce gold coins in the Australian Gold Lunar Set Series 1. The number is large enough for broad investor interest but small enough that at attainment of production caps, they pick up premiums.
Shortly after the year 2000 1-ounce Dragons reached their production cap in the summer of 2001, they picked up premiums in the secondary market. The year 2002 1-ounce Gold Horses reached the production cap in the spring of 2005 and also picked up premiums in the secondary market. However, the 1-ounce Gold Dragon carries the highest premium, the dragon essentially being China's icon. The year 2001 1-ounce Gold Snakes has also hit the production cap and may experience a likewise increase in premium.
Queen Elizabeth II Matures
By law, the Lunar Series coins have to display the image of Her Royal Majesty Queen Elizabeth II on the obverse. When the series started in 1996, the official likeness of the Queen was younger. In 1999, however, Buckingham Palace changed the official likeness to a mature Queen, which is carried forward into the Lunar II series.
The change resulted in the first three years' coins (1996, 1997, and 1998) having the image of the younger Queen Elizabeth and with the later coins having the mature image. In years to come, after the Series has closed, this uniqueness could stimulate greater interest in the Series in Great Britain and those countries that used to be part of the British Empire.
Visit GoldDealerCA on You Tube to see our informative videos on precious metals.
Visit lunarcollectorcoins for more info on the lunar series