Company History
GoldDealer.com (California Numismatic Investments) is a closely held California corporation formed in 1981. Initially it was intended only as a "dealer" to "dealer" business but as we grew we eventually opened the doors to the general public.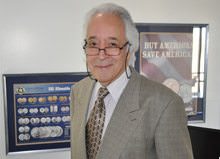 For more than 10 years our primary location was on Pacific Coast Highway in Redondo Beach, CA. A beautiful location but the offices were small.
In 1991 we moved and purchased the building and private parking lot location at 525 West Manchester Blvd, Inglewood, CA. This location had actually been a precious metal dealership since the 1960's. The company was growing, we needed room for expansion and it was centrally located relative to freeway access and LAX.
At that time we developed a 10 year business plan which included owning the property free and clear. This plan became the cornerstone of lower operating expenses which makes better pricing and free shipping possible. Today the corporation is debt free and owned by Richard Schwary who remains a dedicated working owner, respected in the industry and committed to honest representation and friendly service. Sadly Kenny Edwards, Richard's close friend and partner passed away suddenly in Sept of 2018 – he is now in God's hands and will be greatly missed.
If you have questions about this company, its employees or services please contact us toll free (1-800-225-7531).
For additional personal background use the link Officers and Key Employees.