Gold – Now Optimistic or Tired?
Commentary for Tuesday, Jan 15, 2019  – Gold closed down $2.90 today at $1286.20. Looks pretty quiet out there folks – as gold continues to move in a tight trading range. I think the trade remains somewhat positive given recent history but remember anyone associated with the physical gold market has a short memory. It is always what have you done for me lately and frankly, considering all that is going on I would not have expected gold to be so quiet.
The British are still fighting over Brexit, the US government shutdown is getting pathetic and world trade remains worried about the Chinese numbers. The DOW moving above 24,000 does not help safe-haven demand. Still gold remains in the fight as the dollar drifts higher – the Dollar Index moved from 95.47 through 96.25 enough to put a halt to gold's upward early trading bias around $1294.00.
So you tell me – is this market getting ready to move higher?
Is the bullish trend established in late November, which suggested gold would soon trade above $1300.00 enough to satisfy its base? Or does its recent loss of momentum suggest that this latest move to higher numbers is tired? And the follow through needed to challenge the real gold Mount Everest ($1350.00) is simply wishful thinking.
The answer to this question, even with all the political noise we have to put up with these days centers again around the FOMC. They will meet on January 29th and 30th and the learned among us claim this meeting will be no big deal – a steady as she goes clambake.
The next FOMC meeting (March 19th and 20th) is another matter – if the DOW roars back the governors will consider another interest rate hike and even this consideration would hurt gold given inflation numbers remains calm. I appreciate the fact that some in the gold community believe that gold could move higher as interest rates push higher and this may be true – but I'm not on board yet.
A bullish gold argument which has been around forever but has been lost in all this white noise was again cited by Neils Christensen (Kitco). John Hathaway, chairman of gold fund heavyweight Tocqueville Management Corp claims that burgeoning US debt relative to its gross national product will swamp our financial ship – pushing the dollar dramatically lower and gold dramatically higher.
The idea that our growing cumulative national debt is now larger than our gross national product should make your head spin but for some reason has lost its resonance. This is true because while this situation is not unheard of internationally it does not seem to create financial fear and lead to a downgrade of the county's creditworthiness.
Just how long everyone can get away with this hat trick remains to be seen but the argument is sound and does in the longer term support the price of gold.
This from Zaner (Chicago) – "We continue to think that the gold market is in the process of losing upside momentum with the $1,300 level becoming more significant resistance with every day spent trading under that level. In a continuing trend South African gold output for November (the latest figures available) showed another decline of 14% on a year-over-year basis and output also declined by 14.8% on a month over month basis. While the dollar showed some weakness yesterday, it has forged a 4 day upside breakout early today and that should spark some currency related selling of gold today. While a buyout within the gold mining sector yesterday might hint at some value of gold assets, hints of progress on a US/Chinese trade deal from the President yesterday could force gold to shift its bullish focus from safe haven buying to weak Dollar buying. In the meantime, it will probably take significant declines in equities and/or a series of softer than expected US data points to see gold test and take out the $1,300 level. There does appear to be a number of bullish annual forecasts for gold surfacing in the media. With many of those bullish 2019 predictions based on strong physical demand from China and India, strengthening central bank purchases and significant losses in the Dollar, it could be a tall order to get all of those forces operating in concert.
With significant divergence between platinum and palladium seen again yesterday, some weakness in physical commodities and definitive slowing evidence from China, palladium hasn't been deterred. In fact evidence of slowing Chinese car sales, slowing Chinese economic data and weakness in the rest of the metals complex is simply being ignored as palladium this morning appears to be poised for more all-time high action. In fact, March palladium did carve out a minor new all-time high Monday which defeats the argument of lost momentum. It should be noted that palladium prices on Monday saw a higher high than gold, and that headline might serve to pull further speculative interest into palladium in the days ahead. So far, total palladium and platinum derivative holdings have not shown any discernable trend of inflows and that might mean the bull case for palladium has yet to reach the small investor and that could mean that the bullish condition has not reached a blown-out condition yet. Obviously the $1,300 level in March palladium is psychological resistance but until there is a fundamental of significance to justify a top, the trend remains up. On the other hand, platinum suffered significant chart damage yesterday and it seems to be catching the brunt of slowing fears along with other industrial commodities.
We remain skeptical of the bull case in gold and think the market will have to shift its focus away from classic safe haven support and toward weak Dollar support to rekindle the upward track seen prior to the initial foray to $1,300. In fact, the sideways consolidation has extended to eight days and that is longer than the mid December setback wave. However, open interest has expanded consistently and one could point out a "general pattern" of higher lows on the February gold chart, as a partially bullish chart interpretation."
Silver closed down $0.06 at $15.55.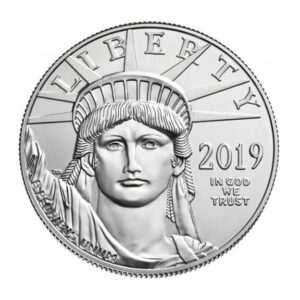 Platinum closed down $3.20 at $795.60 and palladium closed down $4.90 at $1274.60.
When buying or selling you will receive an email confirmation. This includes a PDF File to confirm your invoice or purchase order and includes forms of payment and bank wire instructions. When doing business please check to see if your current email has been entered into the new system and that your computer will accept our email (no spam). Thanks for letting us know when you move or change your email."
We believe our four flat screens downstairs with live independent pricing are unique in the United States. The walk-in cash trade can see in an instant the current prices of all bullion products and a daily graph illustrates the range of the markets on any given day.
Yes – you can visit the store with cash and walk away with your product. Or you can bring product to the store and walk away with cash. We will also wire funds into your account that same day for a small service fee ($25.00) if you are in a hurry.
In addition to our freshly ground coffee we offer complimentary cold bottled water, Cokes and Snapple. We also provide fresh fruit in a transparent attempt to disguise our regular junk food habits as we sneak down the block for the best donuts in the world (Randy's).
Like us on Facebook and follow us on Twitter @CNI_golddealer – have some fun.
We appreciate your friendship and business. Enjoy the evening and thanks for reading.
Disclaimer – The content in this newsletter and on the GoldDealer.com website is provided for informational purposes only and our employees are not registered financial advisors. The precious metals and rare coin market is random and highly volatile so it may not be suitable for some individuals. We suggest before deciding on a course of action that you talk with an independent financial professional. While due care has been exercised in development and dissemination of our web site, the Almost Famous Gold Newsletter, or other promotional material, there is no guarantee of correctness so this corporation and its employees shall be held harmless in all cases. GoldDealer.com (California Numismatic Investments, Inc.) and its employees do not render legal, tax, or investment advice.