Gold Sill Choppy after MLK 
Commentary for Tuesday, Jan 22, 2019 – Hello again and thanks for stopping by for a short visit in your busy day. Gold opened higher today after the MLK holiday sold off and then recovered somewhat settling up $1.20 on the day at $1282.50. You could make a case that today's interest came as a result of weakness in stocks or last minute weakness in the dollar – the Dollar Index moved from 96.46 through 96.23. If you are a technical type watcher you won't like the breakdown of the current trading range which began in early January around $1290.00 and over the past few weeks has trended lower towards $1280.00. But this is just another sign of consolidation, the big question remains will gold hold higher ground?
At the same time the general political and trade discontent both here and in Europe seems to suggest that today's dollar has a short shelve life. I'm not on board yet but eventually this has to be true and will be one of the primary reasons gold will hold up and move higher. Kitco heavyweight Peter Hug suggests that "higher" is closer than you think with 2019 presenting us with $1500.00 gold.
In the meantime this choppy and somewhat nervous market is just part of a precious metals market trying to reinvent itself in the new world of leveraged and fiat paper money. For the record I would ignore the day to day – unless you just like the rhetoric. The bigger picture for gold today is that the latest move from $1200.00 through $1300.00 is being watched carefully. It's possible that gold could once again fail but like I'm fond of saying I really don't think there is big downside at these numbers and the upside could be surprisingly good if the politicians and bankers find out that they have released the inflation genie.   
This from Zaner (Chicago) – "The gold market has rebounded impressively from the overnight low with a rally of eight dollars. While there is some anxiety from global equity market declines, in the wake of pessimistic IMF world growth projections, the magnitude of the declines in equities isn't large enough to justify such a noted bounce in gold prices. In fact with the US dollar basically unchanged this morning, the magnitude of the gold bounce must be partially attributable to the oversold condition into the overnight low following the big range down washout last Friday. With the US apparently seeking extradition of a Chinese tech sector executive and the Chinese government lashing back at that news, a certain measure of geopolitical safe haven buying interest is to be expected. It is also likely that the slowest Chinese economic growth pace in 28 years overnight has fostered some macroeconomic safe haven interest in gold. While the strike at a Sibanye mine in South Africa is taking place at platinum facilities it is possible that some minor spillover buying is being seen in gold from that news. Unfortunately for the bull camp exchange traded funds reduced their holdings by 87,020 ounces in the most recent readings but the net purchases this year still stand at 1.29 million ounces. According to Bloomberg the decline in ETF holdings was the biggest one day decline since December 3rd. Barrick gold 2018 full year gold production was pegged at 4.53 million ounces and that might be seen as slightly supportive of gold as the company's guidance on output was for output of 4.5 to 5.00 million ounces.
The palladium market is in an early freefall with prices into the low this morning reaching $108 an ounce below last week's spike high. With the psychological $1400 level not taken out last week and press coverage on the bull case last week some of the most active flow we have seen on the market in years, it is possible that the market reached a temporary bullish zenith in prices. Even more surprising is the fact that the AMCU union has heightened its strike pressure on a Sibanye mine in South Africa with "no workers" reporting for work (according to union officials) and yet that has not cushioned platinum prices which broke out down this morning and have reached the lowest level since January 2nd. On the other hand ETF holdings in both platinum and palladium increased in the most recent report with platinum holdings building for the sixth straight session. Given the technical damage and momentum in March Palladium, a further decline to a recent consolidation low down at $1,274.10 is likely. Critical support in April platinum is now seen down at $787.90.
While the bias in gold looks to be up the presence of slowing economic activity from the Chinese and from the IMF that news also leaves a measure of deflationary concern hanging over the metals markets. Furthermore the dollar charts generally remain bullish and without disappointing economic news from the US later today the evidence of international slowing overnight might leave the dollar underpinned. Obviously the overnight spike low down at $1276 was rejected leaving that level as some form of value. However closer in support is seen at $1280.10 but the market might be limited on the upside by the underside of the early January consolidation which begins at $1286.50. The silver market also ranged sharply lower overnight and rejected that washout and is trading a somewhat impressive 12 cents above its early low in a fashion that suggests the market found some value. However given slower global growth projections and a very negative chart pattern since early January, we have to leave the edge with the bear camp."
Silver closed down $0.07 at $15.26.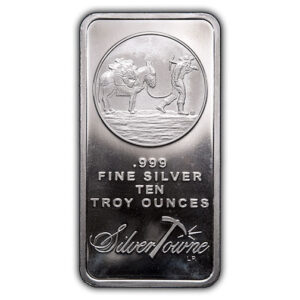 Platinum closed down $11.30 at $786.50 and palladium closed down $28.60 at $1345.50.
When buying or selling you will receive an email confirmation. This includes a PDF File to confirm your invoice or purchase order and includes forms of payment and bank wire instructions. When doing business please check to see if your current email has been entered into the new system and that your computer will accept our email (no spam). Thanks for letting us know when you move or change your email."
We believe our four flat screens downstairs with live independent pricing are unique in the United States. The walk-in cash trade can see in an instant the current prices of all bullion products and a daily graph illustrates the range of the markets on any given day.
Yes – you can visit the store with cash and walk away with your product. Or you can bring product to the store and walk away with cash. We will also wire funds into your account that same day for a small service fee ($25.00) if you are in a hurry.
In addition to our freshly ground coffee we offer complimentary cold bottled water, Cokes and Snapple. We also provide fresh fruit in a transparent attempt to disguise our regular junk food habits as we sneak down the block for the best donuts in the world (Randy's).
Like us on Facebook and follow us on Twitter @CNI_golddealer – have some fun.
We appreciate your friendship and business. Enjoy the evening and thanks for reading.
Disclaimer – The content in this newsletter and on the GoldDealer.com website is provided for informational purposes only and our employees are not registered financial advisors. The precious metals and rare coin market is random and highly volatile so it may not be suitable for some individuals. We suggest before deciding on a course of action that you talk with an independent financial professional. While due care has been exercised in development and dissemination of our web site, the Almost Famous Gold Newsletter, or other promotional material, there is no guarantee of correctness so this corporation and its employees shall be held harmless in all cases. GoldDealer.com (California Numismatic Investments, Inc.) and its employees do not render legal, tax, or investment advice.