Description
RMC 1 oz Silver Round (New)
Silver is an industrial metal because it has many uses in technology, medical science and the environment. And as industry grows the need for silver increases and may push prices higher. Investment interest has also brought increasing attention since the use of silver in US coinage was discontinued in 1964. Today many people believe silver is real money and a store of value as fiat currency loses value through inflation which is why the RMC 1 oz Silver Round is becoming so popular.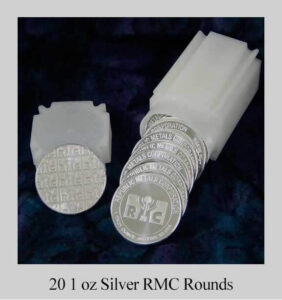 The 1 oz silver round has been popular in  the bullion business since the early 1960's because it is easy to recognize, store and monetary value. And of the many quality manufacturers (refiners) of 1 oz silver rounds one of the most popular traded today is the pictured RMC 1 oz silver round.
We buy and sell the RMC 1 oz silver round in mint condition as shown and each round highlights its purity (.999 Fine Silver) and weight (one Troy Ounce) on the front of the coin. Each 1 oz RMC silver round is beautifully struck, contains frosted contrasting surfaces and is finished using a crisp reeded edge and logo back as added security features.
They come from the manufacturer in beautiful plastic locking tubes of 20 coins each as pictured.
Further advantages of the RMC 1 oz silver round include: (1) because of its uniform weight and size precious metal dealers post daily buy and sell prices which directly follow the price of silver. (2) The RMC 1 oz silver round is handy for smaller transactions and is easily stored in bank deposit boxes. (3) The price you pay over "spot" is small because this bullion product is not rare. (4) The RMC 1 oz silver round comes in durable plastic tubes which hold 20 coins and seal securely. (5) The RMC 1 oz size is an ideal form of barter in case paper currency is questioned. (6) The RMC 1 oz silver round is divisible meaning you can vary the quantities sold over time and so have more options when it comes to liquidation.
There is no reporting requirement when you purchase 1 oz silver rounds.  The sale of 1000 ounces or more is reportable on I.R.S. Form 1099B. The sale of less than 1000 ounces at any one time is not dealer reportable on Form 1099B. 
Visit GoldDealerCA on You Tube to see our informative videos on precious metals.