Description
Silver Britannia 1 oz
The Silver Britannia 1 oz is a popular silver bullion coin which competes with the US Silver Eagle 1 oz and the Canadian Silver Maple Leaf 1 oz. Introduced by England's Royal Mint this pure silver coin is beautiful in design and simple in execution.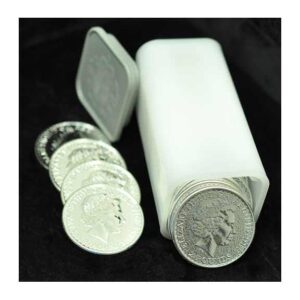 The front features Queen Elizabeth in a combination mirror and matte finish and around her is the following legend: ELIZABETH II DG – REG FID DEF – 2 POUNDS. The back of the coin features a beautiful rendition of the modern Britannia. Around her is the following legend: BRITANNIA – 2015 – 1 OZ – 999 FINE – SILVER.
The 2 Pound legal tender value is symbolic and important because it's produced and guaranteed as legal tender by a sovereign nation.
The Silver Britannia 1 oz is another of the new silver bullion coins designed with extra security features which have become so popular with today's consumer. In this case if you rock the coin back and forth under a light the matte background contrasts with the mirrored higher surfaces and complements the traditional reeded edge.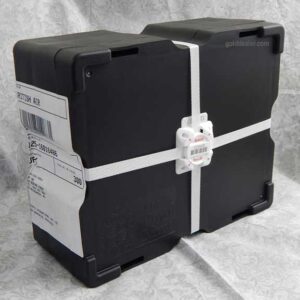 Like other government produced silver bullion coins the Silver Britannia 1 oz will be struck each year in quantities to be determined by the English Royal Mint, only the date will change.
The regular production Silver Britannia 1 oz offers a number of advantages: (1) because the Silver Britannia 1 oz is minted and guaranteed as to weight and purity by the English Royal Mint it is accepted as a world standard. This allows GoldDealer.com and other large dealers to post daily buy and sell prices on these beautiful 1 oz coins which directly follow the price of silver. (2) Because of the Royal Mint's quality standards the Silver Britannia 1 oz is accepted in your Individual Retirement Account. (3) Because the English Royal Mint produces a significant number of these brilliant uncirculated silver coins each year the premium over spot is low and attractive to those who only want a bullion investment. (4) The Silver Britannia 1 oz is a pure silver coin with no alloy and so allows investors to calculate value easily. (5) The English Royal Mint designed a hard plastic tube which holds 25 coins and snaps tightly shut so storage is easy. The Silver Britannia 1 oz Monster Box (500 coins) weighs 38 pounds and holds 20 tubes (500 coins). These tough boxes measure 10 ½ inches by 8 ½ inches by 4 inches, travel coast to coast with no trouble and are popular with silver investors.
Finally there is no reporting requirement (Federal Form 1099B) for this bullion coin when you purchase or sell keeping paperwork to a minimum.
Visit Ask An Expert to send your questions to the owner of GoldDealer.com