Saint Gaudens $20 Gold Piece
A  Solid First Step in Diversification
Looking for a combination of rarity and confiscation protection?
The Saint Gaudens is America's most beautiful gold coin and a best choice for those who want
to add to their gold holdings and include a rarity advantage.

This is the story of a virtually overlooked "Triple Play" investment in gold. An opportunity which identifies one of the world's most prized gold coins that may offer more profit potential than bullion, works very well as a diversification of your gold holdings and provides protection against government intrusion into private life.

I hope my opening statement will point you to one of the best investment values on the market today. There is little doubt that what I'm suggesting will not only be profitable as gold moves higher, it will protect you against a falling dollar and provide the liquidity needed in today's changing investment world.
And I believe the $20 Saint Gaudens in higher grades is destined to move dramatically higher because of a unique combination of rarity, increasing demand, decreasing availability and intrinsic gold content.
In my 20 years of rare coin and precious metals experience I have written numerous investment letters, but none as important as this; there are strongly-evident investment fundamentals which focus on one particular gold coin.
History cannot claim a better situation bringing together the right coin at the right time. Further, this coin is backed by a gold market which now looks undervalued and the publication of Double Eagle Gold Coins (Whitman Publishing LLC) by well known author David Bowers, who provides his insight to why the $20 gold piece holds a unique place in rare coin investing.
The coin I'm talking about is America's $20 Saint Gaudens gold piece minted from 1907 through 1933. Many collectors and investors realize that this coin often ranks among their first choices and is a natural first step when you consider that the $20 gold piece not only stood for wealth, it has defined wealth since the Civil War. Most everyone owns them, or wants to own them because they have one of the broadest appeals of any coin ever issued by our government; and because these gold coins are selling with low premiums, there continues a large generational following.
Now let's talk about the $20 Saint Gaudens from two separate but important time periods and further limit the discussion to PCGS graded MS64 (Choice Uncirculated) and MS65 (Gem Uncirculated) examples. I do this because these time frames highlight industry changes which should be seen as advantageous to investors and include only these two grades because history has shown that Choice Uncirculated (MS64) and Gem Uncirculated (MS65) are the best choices for profits over the long term.
These particular grades experienced an absurd-increase in value between 1978 and 1980. This investment time frame provides impressive evidence of how investors turned crisis into profits, as higher grade US gold coins moved up in price and then doubled in value. This period exceeded even my expectations and remains a great historical example what can happen to these large gold coins when inflation strikes. But there is a supply dynamic that might go undetected unless you dig further: At this point the PCGS Grading Standard had not been adopted so the number of MS64 and MS65 examples is arbitrary.

The second period spans from 1986 to the present and is the most advantageous time frame because it focuses on independent 3rd party grading. Since 1986, the condition of a coin and therefore its value has been defined and limited by PCGS grading. The information learned from this second phase is important for two reasons: First through the independent grading process, the availability of PCGS graded MS64 and MS65 Saint Gaudens is thought to be less than 1% of the original mintages. Second and more importantly is that many high grade examples which would have traded before PCGS would not make the grade in today's more exacting market. This underscores the reason I only recommend Saint Gaudens graded by the Professional Coin Grading Service (PCGS) and this can be easily understood by watching the PCGS Grading Process Video.
Also consider these benefits as the $20 Saint Gaudens provides its "Triple Play" advantage: First it contains almost an ounce of gold, so those looking for a simple bullion play have an upscale option. In fact, it is as close as you can come to a semi-bullion play and still be included in the classic, certified rare coin world. Second it is considered scarce by a silent collecting base which eagerly seeks this particular coin. And third the last of these gold coins were struck in 1933, so many believe they cannot be confiscated in the event that bullion is recalled in the United States.
6 REASONS TO INVEST IN THE SAINT GAUDENS TODAY
I've already said the Saint Gaudens is the most universally owned and traded coin, creating the most phenomenal demand both in this country and abroad; great collectors, wealthy royalty and government treasuries typically own the Saint Gaudens. While foreign powers do own and store bullion, they also keep their money in United States $20 gold pieces because they know that for the safest hard asset hedge, in good times and in bad, this coin is not easily matched.

Have you ever really looked at one of these coins — studied it? I have seen virtually every coin produced by the United States and the Saint Gaudens design with its beautiful relief, is the most majestic. The public will buy this coin in answer to the unlimited printing of paper money but many more will reinforce this trend because of its beauty, its weight and its history.

Every $20 Saint Gaudens contains nearly one ounce of pure gold, so while it is not a bullion coin it clearly is watched by the world wide gold trade. But there is more than weight working for you in one of our favorite gold choices. This coin exploits rarity and demand from a well-established collector and investor market. When rarity and demand converge, the price movements can lead to psychological momentum. In this scenario, upward price movement of high grade $20 Saints could be greater than gold bullion due to its finite supply.

In case you're unaware, our government agrees that the United States $20 gold piece is a rare coin despite its low premiums. This is important because it is not subject to the normal reporting requirements associated with many bullion coins, adding unconditional security and privacy which sparks further demand. People who are privacy oriented will clamor for this coin instead of bullion.

Frustration with equities and financial instruments provides a large source of fresh money to push prices higher. Stock players are looking for other ways to deploy capital and with what treasuries are paying people believe an alternative to their savings account makes sense.

The suitability of the "Double Eagle" in large trades is outstanding as everyone admires the coin. It is also a unique trading vehicle because of its availability in sufficient numbers to create a trading pool, which lends to cost averaging and promotion. The benefit of course is scale which brings in larger investors. For these reasons, the first Wall Street trading funds were dominated by this coin.
THESE TWO GRAPHS DETAIL PRICE OPPORTUNITY
Consider the Saint Gaudens in PCGS MS64 (Choice Uncirculated) or PCGS MS65 (Gem Uncirculated) for privacy and protection against unreasonable government control. You also benefit from scarcity, intrinsic value, psychological demand, and popularity.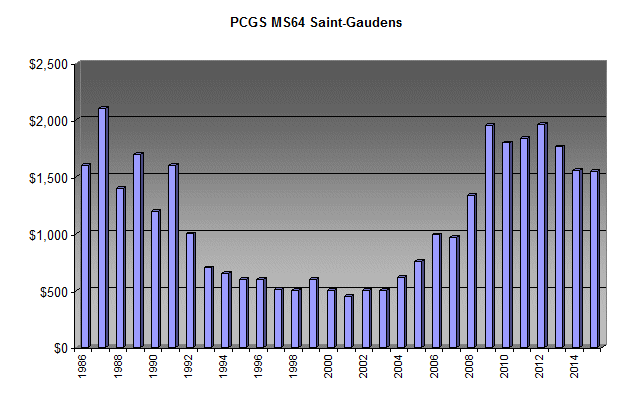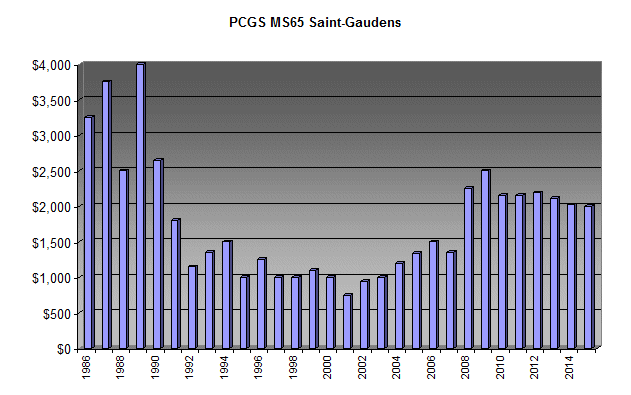 ADDITIONAL REASONS TO INCLUDE THIS COIN IN YOUR THINKING
PCGS graded U.S. twenties allow the investor to define their own strategy which is not dependent on any single dealer. For 30 years CNI has quoted daily buy and sell prices and there are 500 dealers nationwide who also purchase PCGS gold ensuring fairness and liquidity.

Hand selection is big with me, in fact I am a stickler for buying and selling only those PCGS $20 Saint Gaudens which are in the upper half of the grading range. That means you get coins with a little extra sparkle, but no extra charge. It's my way of saying thanks for doing business with GoldDealer.com over the years.

Let's talk about rare coin value which is not abstract but a function of demand, investor base and weight. Value also includes considerations like beauty, rarity, affordability and profit potential. Of all the coins I could recommend there are a number which sell at advantageous prices but lack large demand. Some are beautiful and some are rare but may not be the best choice because only a handful of people can afford them. Of all the things that positively impact the value of any coin the $20 Saint Gaudens satisfies 95% of them making it my number one choice.

Today's investor should not accept the "conventional wisdom" that the inflation dragon is no longer a problem. The consequence of inflation or worse hyper inflation is more dangerous now than ever before because our government has created huge deficits in response to our current economic troubles. When this stack of I.O.U.'s comes crashing back in the form of devalued dollars the price of high-grade $20 Saint Gaudens could go through the roof.

I do not subscribe to an Armageddon world-view but there is a real threat from cyber attacks and armed rogue nations which could produce oil shock and social chaos. Under this scenario the financial world could be turned on its head. These early gold coins do not answer to any government and have provided unquestioned financial security since before the Civil War.
TAKE ADVANTAGE OF THIS CRAZY PRICE COMPRESSION
One of the benefits which come from watching gold and specifically the Saint Gaudens $20 gold piece is that price patterns develop which some people miss completely. These patterns can produce money making clues to those looking for an edge. And if you are worried about large gold price swings my approach provides a blanket insurance policy and offers a better nights sleep.
Why? Because the contrarian investor recognizes value and it's obvious that the pricing of this entire series has been compressed to the lower end of its trading range. The discounts from old highs on these early 20th Century gold coins in beautiful mint state is like buying an ocean view cheap. Really no one in the trade would have ever imagined such pricing would last. But it has primarily because the bull market in gold has been on hold as everyone wonders what happened to inflation.
How long these bargain basement prices will last is hard to say but one thing is sure: the U.S. red ink approaches $200 trillion dollars. And sooner or later that debt will have to be paid through inflation. And early $20 gold pieces in mint state have always done well against a dollar which loses value over time.
Years ago it was believed that as gold moved higher the Saint Gaudens would follow lock step because it contains almost an ounce of gold. In fact what happened surprised everyone: premiums moved lower creating one of the best value plays in the business today.
 CONSIDER ONE OF THREE INVESTMENT STRATEGIES
If you considering a cash purchase take advantage of my discount on five or more coins and remember my Saint Gaudens are hand selected and so fall into the higher end of the grading range. This extra service does not cost more but could produce better financial results in the longer run.

If your entire gold position consists of bullion coins consider moving a portion of this money into PCGS graded Saint Gaudens in MS64 or MS65. The Saint-Gaudens is not a bullion coin and so is not a substitute for a core bullion position but this diversification fits nicely into the CNI Balanced Portfolio Concept and might make your portfolio less volatile.

Finally if you already own PCGS graded twenties, consider adding to your holdings because the gold versus premium ratio is the lowest anyone at CNI can remember. We have recommended gold ownership for more than 30 years and today the price and demand fundamentals of the $20 gold piece continue to make it one of our favorite choices.
Your questions are welcomed so consider calling for more information and pricing designed to suit your needs. It is also important to know that even the best gold investment presents some element of risk. We will provide straightforward answers and share our years of experience in providing the reasons the Saint Gaudens makes sense, all before you spend one dime. Then you decide.
Ken Edwards
1-800-225-7531
Copyright © 2013 CNI Inc.
TO PLACE AN ORDER FOR MY PREMIUM QUALITY SAINTS
OR ASK ADDITIONAL QUESTIONS
1-800-225-7531
 Saint-Gaudens




PCGS MS64 $1380.00




5 Or More: $1360.00 Each
Saint-Gaudens




PCGS MS65 $1590.00




5 Or More: $1570.00 Each