US Gold Commemorative Coins
| | | | | | |
| --- | --- | --- | --- | --- | --- |
| PCGS | Date | Gold Type | Pop | Views | Price |
| MS 64 | 1903 | Louisiana Purchase/Jefferson | 936 | No Picture | $750.00 |
| MS 64 | 1903 | Louisiana Purchase/McKinley | 891 | 1, 2, 3 | $700.00 |
| MS 64 | 1904 | Lewis & Clark / MS 64 | 628 | 1, 2, 3 | $1,800.00 |
| MS 64 | 1905 | Lewis & Clark | 695 | 1, 2, 3 | $2,050.00 |
| MS 64 | 1915 | Panama Pacific $1 | 1682 | No Picture | $675.00 |
| MS 64 | 1915 | Panama Pacific $2 1/2 | 697 | No Picture | $4,100.00 |
| MS 64 | 1916 | McKinley Memorial | 1383 | 1, 2, 3 | $600.00 |
| MS 64 | 1917 | McKinley Memorial | 801 | No Picture | $725.00 |
| MS 64 | 1922 | Grant No Star | 555 | 1, 2, 3 | $1,600.00 |
| MS 64 | 1922 | Grant With Star | 582 | 1, 2, 3 | $1,600.00 |
| MS 64 | 1926 | Sesquicentennial | 4257 | 1, 2, 3 | $675.00 |
Opportunities in Early U.S Gold Commemorative Coinage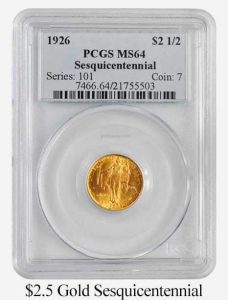 In today's world of coin investing the modern gold commemorative market has created a stir even though the number of coins minted has been very large. This new interest by the public is what prompted us to take a closer look at earlier US gold commemorative programs which produced far fewer coins and may offer much better opportunities. What we found is interesting.
The US Mint began issuing gold commemorative coins in 1903 with a $1 gold piece commemorating the Louisiana Purchase and ended this short series in 1926 with the $2 ½ dollar gold coin commemorating the Sesquicentennial of American Independence.
In many cases the money raised in striking and selling these early gold coins was used to fund local projects which brought attention to a famous person, place or event in American history.
A traditional "set" contains 11 coins – nine $1.00 gold pieces and two $2 ½ gold pieces (the Sesquicentennial and the Pan-Pacific). There are also two magnificent $50 gold pieces (a "round" and "octagonal") which are seldom seen and remind us of how important this early US gold commemorative series is today.
6 Reasons Why a Small Diversification into
Gold Commemorative Coins May Prove Rewarding
US gold commemorative coins are interesting celebrating events like American Independence, the Louisiana Purchase, the Lewis and Clark Exposition, the Panama-Pacific Exposition, and Presidents Jefferson, McKinley and Grant. This historical link and the fact that the "set" can be built one coin at a time suggests future demand may grow in light of today's widespread promotion of modern US gold commemorative coins.
All early US gold commemorative coins are legal tender gold coins and their mintage's are small in relation to other mint releases. Most fall into the 5,000 to 50,000 coin range but here is the interesting part – if you dig a little deeper. In many cases the original mintage's did not sell out and as was the custom at that time, the coins not sold were melted!
Research will also show that many US gold commemorative coins were used for daily commerce because they were legal tender coins – this dramatically reduced the number of "mint state" coins available today.
A study of the PCGS Population Report strengthened this case for ownership. It brings the relationship of condition versus price into focus.  We have weighed these factors carefully and believe that the PCGS MS 64 offers the best dollar value.
US gold commemorative coins offer a number of price inconsistencies which can also be put to your advantage. Compare prices between the popular PCGS MS 64 $2 ½ Indian gold coin ($670.00) and the PCGS MS 64 $2 ½ Sesquicentennial gold coin ($725.00). For the small additional cost you create an amazing new price dynamic.  The commemorative is the same size and grade but is much more difficult to find – the number of coins available is tiny in relationship to a $2 1/2 Indian.
Finally early gold commemorative coins have been overlooked for years – leading to bargain basement prices. For bullion owners considering diversification with rarity the gold commemorative is first rate. In our mind US gold commemorative coins are a primary bargain today. So if you are looking for private, old time value – building a set is promising.