Traditional Rare Coin Investment
Early certified rare coins can offer balance to your core bullion holdings.
Here we offer a few rules, 2 trading secrets and a
sample of our type inventory. If you want to buy or sell
the rare or unusual call or email anytime.  
1-800-225-7531
So what does a model PCGS certified rare coin portfolio look like? Actually there are so many variations on this idea that the exact answer will not suit everyone, but my choices are a good place to begin especially if you are new to rare coin investment. To begin let me offer four reasons I believe everyone should consider placing a portion of their hard asset money into this area:
First the US paper dollar is vulnerable to uncontrolled government spending, worldwide political unrest, and liberal politics, all of which threaten its value and therefore your buying power. Certified rare coins have historically protected owners against this devaluation in paper money.
Second, the rare coin area is one of the few places left which offer complete privacy and favorable tax considerations.
Third, certified rare coins are still a relative secret when it comes to the public at large, so I believe past price appreciation is only a beginning.
Fourth, unlike volatile gold market these coins provide a financial blanket of protection and at the same time may offer a better night's sleep. The bullion portion of your hard asset portfolio is important but is simply a choice between the US Gold Eagle, the South African Krugerrand or other low premium bullion coins. But what about the correct rare coin choices which provide diversification?
We offer a few rules to make sure you place your rare coin investment money in areas with readable price history, good market depth, and prices which are affordable to many investors. These are not the most expensive or rarest coins available but they represent value, are blue chips in their own right, and make a wonderful beginning to the correct certified rare coin approach. As for prices you will find that sometimes bullion coins will lead the way and sometimes rare coins take the lead so a little of both is a good bet.
WHICH ARE THE VERY BEST COINS?
Which coin should I buy for long-term investment and capital gains? That has to be the most asked question in this store over the past two decades. In fact no person knows for sure, but there are parameters, which will lead you in the right direction. Road signs, if you will, to follow in choosing the right PCGS certified rare coin. Such rules produce these "blue chip" choices that are the favorites of professionals and especially suited to new investors.
Are these rules of the investment road difficult? Absolutely not, and in many cases they are just common sense. But beware because some investors throw these simple rules to the wind. So here are a few guide lines to keep in mind which could dramatically increase your chance of profiting in the next rare coin boom.
THE RARITY VERSUS DEMAND SECRET
You would think that such things as rarity and price are pretty basic, and everyone would agree as to their importance when it comes to choosing the best coins. But just the opposite is true for a number of reasons. First, the investor should understand that rarity by itself is not the best way to approach investing. Rarity is good, but if there is no demand for a coin its rarity will be of little value. So it's of paramount importance to link rarity with demand. Before you add a rare coin to your portfolio be sure it is popular. Some of the best investment coins may not be rare, but their popularity is so great that everyone wants an example. This can create an upward pressure on price and positive momentum is better sustained.
WHICH GRADE IS BEST?
Most investors know that all investment coins must be PCGS (The Professional Coin Grading Service) certified because this greatly enhances worldwide liquidity. Yes, there are other grading services, but PCGS is the leader. So if a friendly coin dealer tells you to consider other services show caution. Coins graded by The Professional Coin Grading Service are, on average, worth more when selling, and enjoy a wider market. So why settle for less? After all it's your money and it's an investment rule.
That being said, consider what makes grade or condition so important. All rare coins today are graded using the Sheldon Scale from 1 to 70. The higher the number the better the condition and the rarer the coin. As rarity and popularity increase, so does price. So the cornerstone of coin investing is relative condition. We are talking about how perfect the coin is in terms of marks or abrasions because desirability and rarity drive this market. Investors strive for coins in superb condition, and will pay for quality.
Now we know the better the condition the more money a coin is worth, but where do we draw the line as far as cost? Most investment coins fall between MS63 (Choice Uncirculated) and MS67 (Superb Uncirculated). The rule is to invest in the highest grade you can afford, but not get carried away. There must be a balance between the price of a coin and its condition. In smaller gold coins, for example, MS63 and MS64 grades seem appropriate, while larger $20 gold coins in grades of MS65 and MS66 are a better choice. In most silver coins, however, a grade of MS65 or MS66 represents excellent value.
INTERESTING STORIES ARE IMPORTANT
An investment coin with a story is always better than one without. Stories and the history behind them are important because they bring these real treasures to life. Not just for you, but for the next buyer of your coin. The more compelling the coin story the better your opportunity for profit and fun. It's like location in real estate. An interesting or historical fact that relates to your coin is like ocean front real estate. It creates demand and insures attention. This provides more bidders which may push prices higher.
WATCH PRICE HISTORY CAREFULLY
Price history, or what a rare coin sold for in the past, is important. Most rare coins today have accurate price charts that go back to 1986. Ask to see them before you invest. This rule should never be forgotten because it gives the buyer a great way to judge price and allows a reasonable guess as to where the coin is heading given another round of inflation.
ALWAYS USE MARKET CYCLES
Using market cycles to your advantage is probably your most powerful investing edge available today. And the price chart or history of any particular coin will tell you where in the cycle you are and provide clues as to decisions. It just makes sense that if a rare coin can be purchased for substantially less than it sold for in the last big price move that there is better future potential.
People who develop a buying strategy are much better equipped to profit because they appreciate a long-term plan, which takes advantage of natural "up" and "down" markets. These types of folks make the best investors because they are not too concerned with the latest investment fad. They do their homework and stick with rare coins with a proven track record. A coin, which is rare today, will be rare tomorrow.
And here is another rule to keep in mind: "Don't wait to buy quality coins. Buy quality coins and wait." Patience in this market is golden, and history has shown that the big money payoff comes to those who invest over the long term.
So can we guarantee a profit? Of course not, and CNI will be the first to say that past performance does not guarantee future profits. But we believe that the past performance of coins, just like stocks, is worth watching. It is a great indicator of many things, including where the public has put its money in the past. Such information can be insightful and valuable.
THE KEY IS LOOKING FOR VALUE
Price history is important in your judgment as to whether a coin represents value. Like stocks some rare coins today can be purchased for less than their old highs which indicates to us that a value buy should be considered.
On the other hand there are coins which are trading on their highs, not that we would dismiss these possibilities, but we want to identify both sides of the spectrum and then balance your holdings. We are old time traders and suggest that value centers around blue chip certified coins which can be bought or sold for the right price.
And always follow The 50 Year Rule: This approach is powerful because it keeps the investor focused. Never invest in any rare coin which is not at least fifty years old because without an established track record the outcome becomes unpredictable.
CHOOSE COINS OF SIGNIFICANCE
It may sound funny but you would be surprised at how faddish rare coin investment can be if you don't have the facts. Stay away from unproven trends and new certified coins with unproven records. Stick with the tried and true, remembering that what was rare and popular forty years ago will also make the grade forty years from now.
AND FINALLY MY TRADING SECRET
Building a real rare coin collection, something of value which will prove historically important and provide financial stability in addition to your bullion holdings requires patience. It also requires the ability to trade successfully especially if you have chosen a coin which does not fit into your developed plan or you have lost interest in an area or series.
If you have a bunch of "old stuff" with no investment design in place consider trading your way to investment success. Sometimes trading a poor rare coin choice for something with better potential makes sense and gets you on the right track.
The concept is to actively develop your certified rare coin position while moving toward improvement. I have traded my way into rare coins I would have never considered just ten years ago. And can honestly say that most significant rare coin collections involve active trading of material when an advantage presents itself.
In trading most dealers will pay more for your old stock and sell you their better inventory for less because they realize it is just good business to develop committed customers. It does not always make sense to trade but when an advantage presents itself this approach can be profitable and powerful at the same time.
The following list of PCGS graded rare coins are a good start for someone new to rare coin investments. These choices will move you past the mistakes made in buying graded modern issues and start you on the right path to understanding the real world of rare coin investment.
As time passes, your rare coin library and knowledge will increase. And the fascinating field of rare coin study will grow to include earlier coinage including pre-civil war, territorial gold examples, patterns, and colonials.
We recommend coins graded by PCGS (The Professional Coin Grading Service). America's Number One Grading Standard. You can learn more about PCGS with the PCGS Grading Process Video.
~ A Selection of Rare Coin Choices ~
If investing in high grade "Type" is interesting to you
contact me directly for other material you don't often see.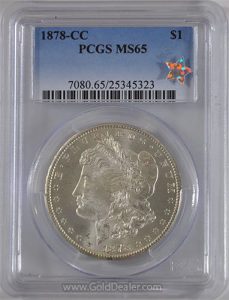 1. The Morgan Silver Dollar Series (1878-1921) is one of the most familiar in rare coin 
collecting and investing. And one of the most popular. 
And within the silver dollar community those minted at the Carson City Mint (CC) are some 
of the most interesting and sought after. 
The mint in Carson City, Nevada was created to handle silver bullion which came on the market as the result of the fabulous Comstock Lode. 
Mining interests wanted to process silver ore locally rather than ship it to the mints in either San Francisco or Philadelphia. So by 1893, the silver ore played out and the mint stopped producing coins.
Today any Carson City silver dollar in most any condition will draw attention and those in Mint State are especially desirable. And this being the first year of issue makes it exceptional and historically important. 
The present example is an exceptional PCGS MS 65 and such superb examples are seldom seen and highly desirable. And yet the price seems reasonable considering the history. 
This example is blast white – original and has that "pop" you have come to expect in high grade silver dollars.
PCGS Mint State 65 1878-CC Morgan Silver Dollar – $1,800.00  *SOLD*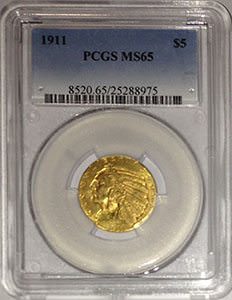 2. To understand this coin first remember that all mint state $5 gold Indians are tough because the series was a workhorse coin. Meaning it circulated heavily and so all mint state examples are scarce. And when you consider the super grades the populations graded by PCGS begin to narrow considerably. When you get to Superb or Gem Uncirculated (MS 65) this popular gold coin becomes a show-stopper. Most PCGS MS 65 $5 Indians are dated 1909 D and even those are difficult to find.
This beauty is dated 1911 making it a better date with a much lower population. The surfaces of this example are pristine – to be expected really considering the grade. But what makes this rarity work is the color – really superb combined with a virtually mark free surface.
The PCGS Population Report shows 55 examples graded in MS 65 since 1986. This is easily one of the nicest $5 Indians in PCGS MS 65 I have handled and a rare coin which will be the centerpiece of an advanced collection.
     PCGS Graded MS 65 1911 $5 Indian Gold Piece – $12,000.00…SOLD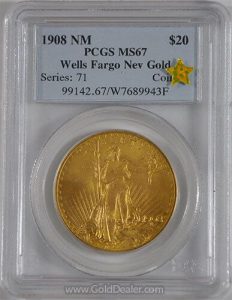 3. The interesting story behind the famous Wells Fargo Hoard of $20 1908 No Motto gold coins is about to be eclipsed by relative condition. In the normal course of events a twenty dollar gold piece in say MS 64 or MS 65 is a treasure when compared to the millions of coins produced between 1907 and 1933. 
We were the first company chosen to sell the amazing PCGS MS 65 1908 No Motto Wells Fargo examples when they were first introduced to the marketplace. 
And because the first released coins were so original there was talk from the very beginning about higher grades. The exciting PCGS MS 66 examples created more buzz and rumors of even higher grades floated around but actual coins remained elusive. Ultra high grade US gold coins are always show stoppers because they are seldom seen or traded.
And to say this PCGS MS 67 1908 No Motto is one of the most beautiful coins I have ever seen really does not do this rare coin justice. The surfaces are virtually perfect and the color is radiant. So if you are looking for something in the extreme high end of the grading scale this beauty will fit the bill nicely. We have handled about 15 examples of this coin in PCGS MS 67 in 20 years.
                   PCGS Mint State 67 – 1908 $20 No Motto "Wells Fargo Gold" – $6,900.00 SOLD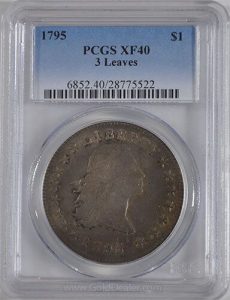 4. Early silver dollars are all rare and comprise one of the most sought after areas of collecting today. By early we me
an those struck between 1794 and 1803 representing the first federal coins struck by the 
new US Mint in Philadelphia. 
This 1795 silver dollar was only produced in two years – 1794 and 1795. A decent circulated 1794 example would ru
n more than $200,000.00 so it's usually off the table for most folks. But the 1795 is still reasonably priced considering you don't often encounter this coin.

It is known in three varieties, the so called "silver plug" (very rare) and the usually seen 
Two Leaves and Three Leaves type. The leaves we are talking about are on the reverse, under the eagle's wing and easily identify the variety. 
Early dollars are not often seen in mint state, the majority circulated in early America. This coin offers an amazing story which is historically important.
The surfaces of this beauty are immaculate and original luster can still be seen behind the toning. The coin is totally original and never played with which is becoming difficult to find. Early dollars are easily one of my favorite areas of collecting and investing and I never pass up an opportunity to purchase nice examples like this one.
PCGS Extra Fine (XF-40) – 1795 Dollar (3 Leaf Variety) – $14,500.00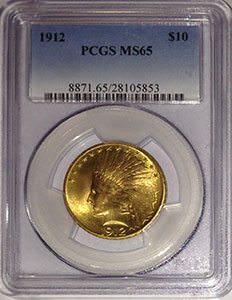 5. The gold 1912 $10 Indian With Motto in PCGS Mint State 65 is another beautiful find for the collector who specializes in "better date" – "high end" gold pieces.
The Motto we are talking about is of course "In God We Trust" which was added to the reverse of the coin between 1908 and 1933.
With a PCGS Population of only 30 coins graded since 1986 this coin is seldom seen in finer condition and the present example is easily in the top 10% of the grading range – with totally originally surfaces.
Gem uncirculated $10 Indian gold pieces like this are difficult to find and easily sold because the connoisseur recognizes this combination of beauty and rarity is not often encountered.
This example is one of the finest I have handled with that beautiful soft luster – lack of distracting contact marks and wonderful eye appeal. Like all high end $10 Indian gold pieces the next owner should wonder how this coin escaped the confiscation and melting of US gold coins in 1933.
                 PCGS Graded Mint State 65 – 1912 $10 Indian With Motto – $12,000.00 SOLD
6. A classic in the rare coin field – and one which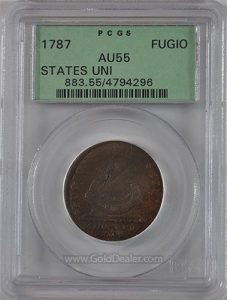 Ben Franklin designed. This copper coin 
is one of the first attempts our new government made to supply much needed coins to colonial America. 
Called the Fugio cent (intended meaning being "time flies") and Franklin's own motto "Mind Your Business" links this historical colonial coin to our nation's beginning. And I think makes Franklin's own case for the importance of applied industry in America.
There are several varieties – this one being the "STATES UNI" – all Fugio reverses carry the interconnected 13 circles (representing the colonies) and the appropriate motto "We Are One".
This example is graded AU 55 which means it falls into the higher end of the Almost Uncirculated scale and so presents excellent detail and color. 
All Fugio cents are fascinating and struck by hand. Scholars believe the copper used came from the copper bands which held together powder kegs supplied by the French.
PCGS Almost Uncirculated (55) – 1787 Fugio Cent (States Uni) – $2,300.00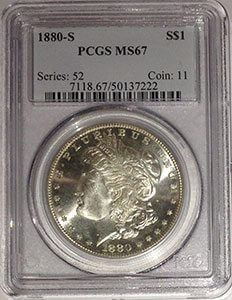 7. As a date the 1880-S Morgan Dollar is often seen – even in MS 65 and MS 66 condition. But the coins in MS 67 grade are the perfect combination of extremely high grade which is still affordable to anyone putting together a rare coin collection with value in mind. 
This particular example is blast white and virtually mark free. All early silver dollars from the San Francisco Mint were stored in canvas bags of 1000 coins and bags were stacked to conserve vault space. 
These coins were then moved from place to place – re-stacked – recounted and each time the process was repeated the coins bumped into each other and most were bag marked.
This common process "insured" only a small percentage of coins would ever be graded Mint State 67. The strike on this particular coin is needle sharp and the color is completely original. A beautiful example for anyone who aspires to be a Morgan Dollar specialist.
PCGS Graded Mint State 67 – 1880 S Morgan Dollar – $750.00 SOLD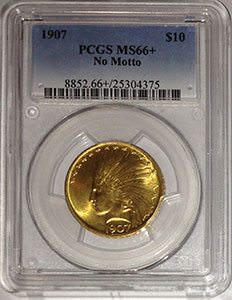 8. The gold 1907 $10 Indian is a special coin because the No Motto variety was only struck in 1907 and 1908.
The No Motto of course means that the US Mint did not use the familiar – "In Gold We Trust" which was placed on the $10 Indian from 1908 through 1933.
At the end of this series all gold US coins were discontinued – those in US circulation were confiscated, melted and stored at Fort Knox.
All 1907 $10 Indians are scarce in higher grades and this pristine example is virtually impossible to find in PCGS MS 66 condition. The surfaces are more than superb – they are so lively I sent this coin back to PCGS for "regrading".
I just could not understand why they would not upgrade this magnificent gold coin to a MS 67 grade. The picture really does not do this coin justice so if you are in the store ask Kenny to see it in person – really amazing.
The surfaces are virtually mark free and the color is completely original. If you are looking for a show-stopper consider this coin.
                      PCGS Graded Mint State 66 – 1907 $10 Indian No Motto – $22,000.00 SOLD
9. A classic in the rare coin field – and one which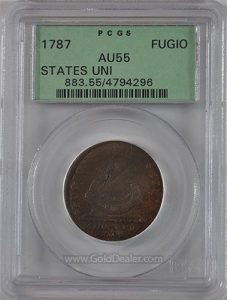 Ben Franklin designed. This copper coin
is one of the first attempts our new government made to supply much needed coins to colonial America.
Called the Fugio cent (intended meaning being "time flys") and Franklin's own motto "Mind Your Business" links this historical colonial coin to our nation's beginning.
And I think makes Franklin's own case for the importance of applied industry in America.There are several varieties – this one being the "STATES UNI" – all Fugio reverses carry the interconnected 13 circles (representing the colonies) and the appropriate motto "We Are One".
This example is graded AU 55 which means it falls into the higher end of the Almost Uncirculated scale and so presents excellent detail and color.
All Fugio cents are fascinating and struck by hand. Scholars believe the copper used came from the copper bands which held together powder kegs supplied by the French.
PCGS Almost Uncirculated (55) – 1787 Fugio Cent (States Uni) – $2,300.00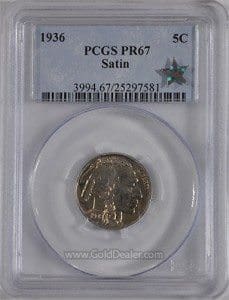 10. Early Twentieth Century proof coinage in superb condition is one of the best places to learn about the advantages of type collecting and investing. And of the choices available the 1936 Buffalo Nickel in PCGS Proof 67 has to be another one of my favorites.
The Buffalo 5 Cent Piece in Proof was produced in both a Satin and Brilliant proof finish in 1936. 
This example is a Satin Proof which has a charm of its own – plenty of eye appeal – and its grade (Proof 67) is noteworthy. This coin would fall into the investing group known as "super grades".
Now considering how popular these early proofs have become and the large collecting base the price of beautiful examples are relatively inexpensive. 
The 1936 PCGS Satin Proof 65 offered is typical featuring brilliant and pristine surfaces. The design by James Earle Fraser is already famous but when the coin is in proof condition there is something special about the presentation which remains enduring to collectors and investors. I have not had a nice proof example in stock for some time and expect it will find a new home quickly. This coin is completely original with lots of eye-appeal. If you are looking for perfection this is about as close as you can get without mortgaging the house.
                  PCGS Satin Proof 67 – 1936 Indian Head Nickel – $2,550.00
Keep in mind that the PCGS certified rare coins listed are a selection from a larger inventory of "type" coins. They are chosen to highlight that "type" investing need not be expensive and there are many undervalued "type" coins which remain a part of the "golden age" of rare coins.
I also have long-term price graphs which show excellent entry points and good timing as well. For now however I would suggest you call me (1-800-225-7531) with additional questions about investing in the amazing world of rare coins by "type".
This will give me an opportunity to provide straight-forward answers including a few curves in the road for even the best rare coin choices involve some risk. The call is free and the discussion will further explain why holding these coins have historically protected wealth especially during a currency or inflationary crisis. Then you decide.
Ken Edwards
1-800-225-7531
California Numismatic Investments
www.golddealer.com
P.S. I appreciate how busy everyone is these days so I have added my email (kenedwards@golddealer.com) if you want questions answered in writing. If you prefer a call-back email your name and number and perhaps suggest a convenient time. There is no obligation and developing this important investment area is also fun and educational. Thanks for reading.