Corporate Officers and Background
Key Employee Contact List
About GoldDealer.com – The President of the corporation is Richard Schwary and he graduated from CSULB with a Bachelor of Science degree in 1973. Richard has been well known in the dealer community for more than 40 years. He helped write the sales tax exception laws within California and was one of the first dealers to post the required dealer surety bond for doing business within Minnesota.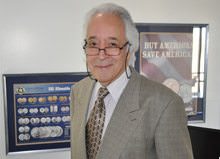 Because of his rare coin background he was also a price contributor to A Guide Book of United States Coins, the premium pricing guide for US coins since 1947. He is published in trade papers, is a member of The Numismatic Literary Guild and a Life Member of the American Numismatic Association.
Richard attends national shows for the latest market information, was an Officer and Director of The Professional Numismatists Guild and served as PNG President from 1997-1999. The State of California and the Federal Trade Commission have used Richard as an Expert Witness regarding rare coins and precious metals and he is available to answer your questions anytime under Ask an Expert.
Richard's friend and partner for 37 years was Ken Edwards who passed away in Sept of 2018. Kenny was knowledgeable and friendly. And a great father and husband. His precious metal banter with Buzz Schwartz (Investor's Club of the Air) was priceless, educational, and funny. He will be greatly missed.
Employee Contact List for GoldDealer.com