Corporate Officers and Background
Key Employee Contact List
About GoldDealer.com – The President of the corporation is Richard Schwary and he graduated from CSULB with a Bachelor of Science degree in 1973. Richard has been well known in the dealer community for over thirty years. He helped write the sales tax exception law regarding bullion and rare coin sales within California and was one of the first dealers to post the required dealer surety bond for doing business within Minnesota.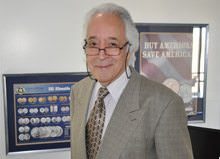 Because of his rare coin background he was also an official price contributor to A Guide Book of United States Coins, the premium pricing guide for US coins since 1947. Richard is published in dealer and trade papers, is a member of The Numismatic Literary Guild and a Life Member of the American Numismatic Association.
He attends national shows for the latest market information, was an Officer and Director of The Professional Numismatists Guild for more than a decade, and served as PNG President from 1997-1999. The State of California and the Federal Trade Commission have used Richard as an Expert Witness regarding rare coins and precious metals and he is available to answer your questions anytime under Ask an Expert.
Ken Edwards graduated from UCLA in 1981 with a Bachelor of Arts degree in economics. He is the Vice President of California Numismatic Investments and has been with the company for 37 years.
Ken is a nationally known speaker and has hosted hundreds of radio programs explaining why it makes sense to add precious metals and certified rare coins to your financial holdings. His trading judgement is trusted and he has been interviewed on CNN, CNBC and PBS regarding market direction and economic factors relating to gold and silver. He regularly discusses the precious metals on the radio with financial experts like Moe Ansari (Market Wrap) and teacher David England (The Trader's Eye).
He is also a consumer advocate in the coin business, talks to large or small groups upon request and will work with you personally to develop a sound long term approach to investing.
His timely radio insights on Investor's Club Of The Air have helped thousands of hard asset investors make balanced choices in both the metals and certified rare coins.  Kenny also writes and records Audio Gold News which is uploaded twice daily to our website. His My Morning Look and My Closing Thoughts recordings offer current precious metal commentary and include buy and sell quotes for the most popular bullion products. His three decades of hands-on experience in buying precious metals and selling precious metals will help answer important questions, dispel myths and save you money.
Employee Contact List for GoldDealer.com