Our Almost Famous Gold Newsletter
Welcome to Our Almost Famous Gold Newsletter written daily by Richard Schwary after the CME close. This commentary will look at the gold, silver, platinum and palladium markets and consider what happened to create these changes on the trading floor. It will also offer world class commentary from other sources in a balanced and straightforward manner.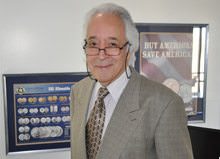 This newsletter is not designed to sell products or hype markets. It will offer an opinion about market direction from an old time bullion dealer with 37 years of physical trading experience.
Our Almost Famous Gold Newsletter will sometimes include talk about bullion premiums, why they change and how this affects public choices. And, on occasion we will remind readers to be careful about some "so-called" bullion products offered by telemarketers today.
In a world which has been turned on its head with currency expansion Our Almost Famous Gold Newsletter is finding a niche among precious metals readers looking for something fun and not too serious.
Of course it's free and you can sign up using the form below. We promise you will not be accosted with "Special Deals", immediate get-rich schemes or telephone calls trying to sell you something you don't want under the guise of something you can't live without. We are proud to say we do not employ telemarketers – everyone is salaried. And each is eager to actually answer your questions while providing the best bullion prices in the nation. It's fun, the site is encrypted and no personal information is ever released, sold or fiddled with – a refreshing change in today's world.

The Gold Newsletter Week in Review
Gold Quietly Higher Commentary for Friday, March 22, 2019 – Gold closed up $5.50 at $1311.60. Gold closed this past Monday at $1300.30 so on the week we are up $11.30 – higher but not much bang really considering the political and economic drama. Gold opened choppy to higher today – so pricing is firm […]
0 comments
Sign Up for Email Delivery – It's Complimentary!