Precious Metals For Your IRA
Our clients are often excited –and sometimes surprised– to learn that they can actually hold physical, tangible precious metals, in safe storage for their benefit at retirement. Buying precious metals for your IRA has become a popular way of diversifying your retirement funds. Many economists and expert investors recommend holding tangible precious metals in your retirement account to potentially hedge against inflation, world turmoil, currency volatility and the uncertainties of the stock market. Setting up a Self-Directed IRA is easy to do, and we are happy to assist in the process.



How do Self-Directed Precious Metals IRAs work? Basically you authorize three entities to work on your behalf: a custodian, a broker/dealer, and a depository.
The custodian serves as the "office manager" or escrow company for your account. Your custodian will authorize buy and sell orders on your behalf when you direct them to do so, they confirm that metals ordered by you are shipped to your depository, and they handle record maintenance and IRS reporting. They charge fees for their services which are quite nominal compared to what a financial planner or institution might charge you.
The broker/dealer is where you go to buy or sell precious metals. (That would be how we participate in your account.) When authorized to do so by you, your custodian lets us know that you have an account with them and that funds are available to invest. We then get in touch with you and buy the metals you choose for your account. Those are then shipped to your depository for your benefit. Our non-commissioned salespeople quote your net, delivered-to-the-depository price, with no additional fees. And our shipping is free, even for large silver purchases.
The depository is the safe storage facility where your bullion is held until you sell it or take a distribution from the account. Popular choices include DDSC (Delaware Depository), CNT Depository, IDS (International Depository Services), and AMGL.
Our Preferred Custodian is Equity Trust. Their application is easy to fill out and their customer service is extraordinary. Real people pick up the phones to answer your questions: a well-trained team of Precious Metal IRA specialists waits at their end for your call, so you can actually speak to a human being! We've found Equity Trust can often complete in hours what takes other custodians weeks to handle, their response time to our questions when helping our mutual clients is fast and professional, and the free webinars and training materials on their site are instructive. Clients tell us that working with Equity Trust feels like working with a professional financial services firm, yet their fees are among the lowest we've seen.
If you'd like to get started, click on the graphic below to get to Equity Trust's application (Their 100% electronic account enrollment and funding journey for Precious Metal Self-Directed IRAs takes just 10-15 minutes to complete) or you can call their Precious Metals Self Directed IRA team at (888) 744-0096. You can also print out a paper application to send if you prefer.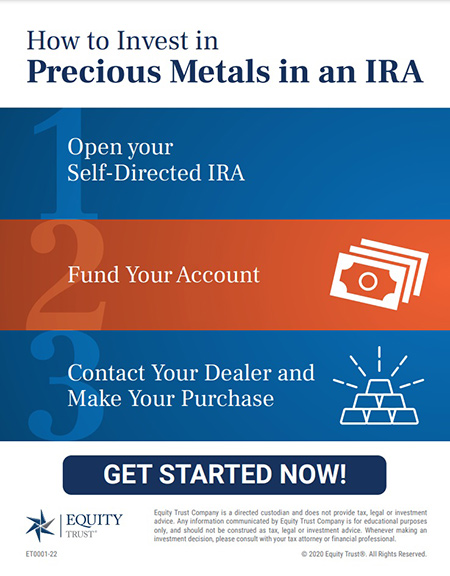 Other choices popular with our customers over the years have included New Directions Trust (877) 742-1270 and Strata Trust at (866) 985-7156. We're certainly happy to work with these and other professional custodians as well.
If you have questions for us, please use our contact page to email our Retirement Account Specialist, Ed Hodson, or call (800)-225-7531 and ask for him. We look forward to helping you!