Rare Coin Inventory
Early certified rare coins offer balance to your core bullion holdings.
Here are a few hand-picked suggestions, please confirm availability and price. Pictures available upon request.
Call (800) 225-7531 for more information. And your satisfaction is always guaranteed.
Date
Service
Grade
Price
US Colonial Coinage – One of the most historical fields within numismatics – packed with hidden treasures and wild stories of early American life. This area of interest contains many legendary rare coins which have set world record prices. Massachusetts NE (New England) shilling, the Higley coppers (he minted copper coins from his own mine and when the locals protested about the stated value he added the inscription Value Me As You Please), the famous gold Brasher Doubloon, the Nova Constellatio patterns, most of which are unique, the 1792 Birch Cent, lettered edge (To Be Esteemed Be Useful) 8 known, and the famous 1792 Disme in silver (3 known). But for the most part many rare issues are still surprisingly affordable.

---

---

---

---

---

Pine Tree Schilling – Small Planchet – The Pine Tree Coinage struck between 1667 and 1682 was all dated 1652 in an attempt to make England believe the colonists were not engaged in the treasonous act of making their own money. There were three denominations – the Threepense – the Sixpense and the Shilling. Nathaniel Hawthorne's Grandfather's Chair relates the story that John Hull, the mint master gave his daughter Betsey's weight in Pine Tree shillings as her dowry. When I first began looking at colonial coinage (a long time ago) the common explanation for the occasional "bent" shilling was that the colonists did this to protect against "witches". This story may be apocryphal but it illustrates why the series has steadily grown in collector demand over the years.
1652
PCGS
VF35
$4,700

---

---

---

---

---

New Jersey (Outline)
1787
PCGS
XF40
$850

---

---

---

---

---

1787 Fugio Cent – States United – 4 Cinq – The Fugio Cent (Latin for times flies) is significant because it was the first coin issued by authority of the United States. Struck by a private party (James Jarvis) the design is credited to Benjamin Franklin. The reverse features 13 interrelated rings (symbolic of the colonies) but the public disliked the idea claiming it looked like a chain (bondage). Its admonition "Mind Your Business" promotes private enterprise. Cinq – Cinquefoil – a flower (the rose family) 4 – the number of pedals.
1787
PCGS
MS64BN
$4,150

---

---

---

---

---

1791 Washington Cent – Large Eagle – Brown – To appreciate this coin you really have to look carefully at the reverse – it is truly a magnificent large eagle, in my opinion one of the finest in numismatics. This coin is part of a wider group called Washington Pieces. Most of which present a true likeness of our the first president.
1791
PCGS
MS63BN
$2,800

---

---

---

---

---

US Type Coinage – As the name implies each is a distinct "type" of coin. Sometimes these types are defined by denomination – quarter dollar, half dollar or silver dollar. Some specialize by choosing the various "types" within same denomination. The Seated quarter series (1838-1853) for example contains 5 varieties – No Motto – Arrows & Rays – Arrows No Rays, Motto & Arrows at Date. Each of these minor charges in design was the result of the mint changing the amount of silver used to keep the coinage within federal statute. So lots of choices promoting creativity and value building.

---

---

---

---

---

Proof Buffalo 5 Cent Piece – The Buffalo series was struck from 1913 through 1938. Yet there are only 7 proof years and all of these are difficult to find in higher grades. There are two types of "proofs" – matte (sandblasted dies) and brilliant (highly polished dies).

---

---

---

---

---

Proof Buffalo Nickel 1913 – Type 1 Matte
1913
PCGS
PR66
$3,900
Proof Buffalo Nickel 1936 – Type 2 Brilliant
1936
PCGS
PR67
$3,000
Proof Buffalo Nickel 1937 – Brilliant
1937
PCGS
PR65
$1,100

---

---

---

---

---

Proof Liberty Seated Dimes – Seated dimes were struck between 1837 and 1891. The first proofs were seen in 1853 and for the most part were struck each year through 1891. Most are surprisingly inexpensive in higher grades. Great value and potential.

---

---

---

---

---

10c Seated Liberty – No Arrows – Closed 3 – Proof
1873
PCGS
PR65
$950

---

---

---

---

---

Twenty Cent Pieces – 1875-1878 – From the very beginning the public complained about the similarity in design and size to the quarter dollar. This created confusion in commerce and so mintage numbers were drastically reduced after the first year and discontinued after 4 years. This series produced one of America's great rarities the famous 1876 CC twenty cent piece worth upwards of a million dollars today.

---

---

---

---

---

20c 1875-S Liberty Seated
1875-S
PCGS
MS65
$2,500

---

---

---

---

---

25c Capped Bust Quarter – Reduced Diameter

---

---

---

---

---

25c 1835 Capped Bust Quarter – Motto Removed
1835
PCGS
AU50
$725

---

---

---

---

---

Seated Liberty Quarters

---

---

---

---

---

Note – Beautiful PCGS MS-65 and MS-66 seated liberty quarters have always been a favorite – unfortunately I'm sold out. If you have superior examples send a picture to richard@golddealer.com with your asking price, maybe I can buy yours. Thanks!

---

---

---

---

---

Barber Quarters – Designed by Charles Barber and truck between 1892 and 1916 – it was considered a "workhorse" coin of its time, meaning it was perfectly suited for daily commerce and so a large percentage of those coins struck were heavily circulated. I have always thought that higher grade proof and  mint state examples have been overlooked by the public and many dealers for decades.

---

---

---

---

---

25c 1892 Barber Quarter – CAC
1892
NGC/CAC
MS65
$825
25c 1915-D Barber Quarter
1915-D
PCGS
MS65
$725

---

---

---

---

---

Standing Liberty Quarters – Replaced the Barber Quarter – designed by Hermon MacNeil. Struck from 1916 through 1930. Outstanding design & very popular. There are two varieties – Type 1 (No Stares Below the Eagle – 1916-1917) and Type 2 (Stars Below the Eagle – 1917-1930).  If Liberty's head is fully struck the grading services add the full head (FH) distinction to the holder and the coin commands a premium.

---

---

---

---

---

25c Standing Lib Quarter
1917-D
PCGS
MS65FH
$1,450

---

---

---

---

---

Draped Bust Half Dollars (1796-1807) – One of the most popular early American coins struck between 1796 and 1807 – rare in all grades, exceedingly rare in high grades.

---

---

---

---

---

Capped Bust, Lettered Edge (1807-1836)

---

---

---

---

---

Barber Half Dollars – Also called the Liberty Head Half Dollar – struck between 1892 and 1915. High grade examples in proof and mint state are always desirable and keep in mind that collectors in this era saved primarily proof examples not business strikes so they are much tougher to find than the mintage's might suggest. Inside tip – buy only top of the line examples with terrific eye appear and "pop".

---

---

---

---

---

50c Barber Half Dollar
1900
PCGS
MS65
$2,250
50c Barber Half Dollar
1912-D CAC
PCGS
MS65
$2,150

---

---

---

---

---

50c Barber Half Dollar – NGC Proof 65
1912
NGC
PF65
$2,050
50c Barber Half Dollar – NGC Proof 65
1903
NGC
PF65
$2,050
50c Barber Half Dollar – NGC Proof 65 – Red Book Insert
1909
NGC
PF65
$2,100

---

---

---

---

---

Walking Liberty Half Dollar – A land mark coin with a wide following which was struck in both proof and mint state (1916 and 1947). Designed by Adolph Weinman and Liberty has the American flag draped around her shoulders. Original pattern ideas where much more dramatic but the final  production coins are a high water mark in spectacular 20th century coin design.  Weinman also designed the dime which shows Liberty wearing a winged cap. This classic depiction was initially  thought to be the Roman god Mercury and to this day it's mistakenly called the Mercury dime.

---

---

---

---

---

Mint State Walking Lib Half Dollars

---

---

---

---

---

50c Walking Lib Half Dollar
1934-D
PCGS
MS66
$1,400
50c Walking Lib Half Dollar
1934-S
PCGS
MS65
$2,300

---

---

---

---

---

Proof Walking Lib Half Dollars – Most overlook the notion that a complete "set" of 7 proof Walkers is rarely seen today, makes an unbelievable display and yet is still attainable with a small amount of diligence. The Philadelphia Mint (no mint mark) only struck proof examples in 1936 (the most difficult to find), 1937, 1938, 1939, 1940, 1941 (proofs this year come with and without the design's initial – AW) and 1942. Most of these dates are still inexpensive even in high grades and all are wonderful examples of the golden age of US coin design.

---

---

---

---

---

50c Walking Lib Half Dollar – PCGS Proof
1941
PCGS
PR65
$550
50c Walking Lib Half Dollar – PCGS Proof 67 CAC
1942
PCGS
PR67/CAC
$840

---

---

---

---

---

Early US Federal Dollars – Popular, studied and sought there are three types – Flowing Hair (1794-1795) – Draped Bust, Small Eagle Reverse (1795-1798) – Draped Bust, Heraldic Eagle Reverse (1798-1804). And what happened to all these coins? Over time the price of silver changed, in those times when silver was rising in price the silver dollar contained "too much silver" relative to statue requirement and so many were melted. The same fate awaited our early gold coins as the mint tried on many occasions to change "intrinsic weight" to reflect a silver or gold coin denomination.

---

---

---

---

---

Heraldic Eagle Reverse – The most affordable in the series, these historical coins have a wide following in all grades. Picture America's first mint in Philadelphia and workers drinking beer – it was actually encouraged, the water spread yellow fever.

---

---

---

---

---

$1 Flowing Hair Heraldic Eagle
1798
PCGS
VF20
$2,600
$1 Flowing Hair Heraldic Eagle
1799
PCGS
VF25
$2,600
$1 Flowing Hair Heraldic Eagle
1799
PCGS
VF35
$2,900
$1 Flowing Hair Heraldic Eagle
1799
PCGS
XF40
$4,100
$1 Flowing Hair Heraldic Eagle
1800
PCGS
VF35
$2,800

---

---

---

---

---

Proof Trade Dollar – Regular production trade dollars were struck in 3 mints – Philadelphia, Carson City and San Francisco between 1873 and 1885. Especially prepared "proof" strikings were only made in 13 of these years and only at the Philadelphia Mint. There are two are major rarities – 1884 (10 known) and 1885 (5 known). From the beginning the Trade Dollar created a great deal of controversy and so the remaining 11 "proof years" were ignored and mistreated by collectors. High grade examples today are tough to find and undervalued.

---

---

---

---

---

$1 Trade Dollar – Proof Only Issue – CAC
1879
PCGS
PR65
$6,500

---

---

---

---

---

Better Morgan Silver Dollars – A traditional and trusted investment area with a huge following. Struck between 1878 and 1904, bought back in 1921 for a short time.

---

---

---

---

---

$1 Morgan Dollar
1879-O
PCGS
MS65
$2,600
$1 Morgan Dollar – CAC
1881
PCGS/CAC
MS65
$500
$1 Morgan Dollar
1882-O
PCGS
MS65
$800
$1 Morgan Dollar
1882-O
PCGS
MS65
$800

---

---

---

---

---

$1 Morgan Dollar
1878-CC
PCGS
MS65
$1,175
$1 Morgan Dollar
1884-CC
PCGS
MS65
$390
$1 Morgan Dollar
1885-CC
PCGS
MS65
$900

---

---

---

---

---

$1 Morgan Dollar
1888-O
PCGS
MS65
$400

---

---

---

---

---

Better Peace Dollars – Issued between 1921 and 1935 the Peace dollar was a commemorative peace coin designed by an Italian immigrant using his  beautiful wife as the model for Liberty. With diligence one can assemble a magnificent 24 coin set in MS-65! The stoppers being the 25-S, the 28-S and 34-S – the remaining 21 coins are undervalued, surprisingly affordable and historically important. The inside tip here is not to "buy the holder" – look for fully brilliant, blast white examples with terrific eye appeal.

---

---

---

---

---

$1 Peace Dollar – High Relief
1921
PCGS
MS65
$1,650

---

---

---

---

---

$1 Peace Dollar
1922-D
PCGS
MS65
$500
$1 Peace Dollar
1922-S
PCGS
MS65
$1,500
$1 Peace Dollar
1928
PCGS
MS65
$3,100
$1 Peace Dollar
1935
PCGS
MS65
$625

---

---

---

---

---

Select US Investment Gold – Always popular – a selection of better material in high grades, including 2 1907 $20 High Reliefs.

---

---

---

---

---

$1 Dollar Type 1
1853
PCGS
MS65
$2100

---

---

---

---

---

$5 Gold Indian- Beautiful Color – Rare This Nice – Unique Incused Design
1909
PCGS
MS65
$7100

---

---

---

---

---

$10 Liberty
1901S
PCGS
MS65
$2390

---

---

---

---

---

$20 Saint Gaudens High Relief – Wire Edge
1907
PCGS
MS64
$24,000
$20 Saint Gaudens High Relief – Wire Edge
1907
PCGS
MS63
$20,000

---

---

---

---

---

Early $2.5 Gold – Classic Head No Motto 1834-1839

---

---

---

---

---

Early $5 Gold – Draped Bust to the Left 1807-1812

---

---

---

---

---

$5 Gold Piece – 1810 Large Date Large Five
1810
PCGS
MS62
$12,500

---

---

---

---

---

Early $5 Gold – Classic Head No Motto 1834-1838

---

---

---

---

---

Early Type 1 & Type 2 $20 Gold Choices – Struck between 1849 and 1876, sought after in all grades as these coins were struck during the gold rush days through the civil war. There is just something magical about these big early gold coins, they never last long.

---

---

---

---

---

$20 Liberty – 1852 – Type One – Without Motto
1852
PCGS
AU55
$2,450
$20 Liberty – 1858 S – Type One – Without Motto (In 1857 Wall Street collapsed and banks closed. Financial panic spread and this gold coin provided financial protection).
1858-S
NGC
XF45
$2,000
$20 Liberty – 1861-S – Type One – Without Motto
1861-S
PCGS
AU50
$2,450
$20 Liberty – 1865 – Type One – Without Motto
1865
NGC
XF45
$2,450

---

---

---

---

---

Classic Silver Commemoratives – Most early silver commemorative coins are half dollars struck between 1892 and 1954, the exceptions being the Lafayette dollar (1900) and the Isabella quarter (1893). These historic coins celebrate important persons and events in US history providing a world of education. Beautiful MS-65 examples trade for a song and Yeoman's Guide Book of United States Coins always provides valuable insight.

---

---

---

---

---

50c Iowa Commem
1946
PCGS
MS65
$130
50c Rhode Island Commem
1936-S
PCGS
MS65
$175
50c San Diego Commem
1936-D
PCGS
MS65
$140
50c Wisconsin Commem
1936
PCGS
MS65
$210

---

---

---

---

---

1900 Lafayette Dollar – PCGS Mint State 65 – Rainbow Toning!
1900
PCGS
MS65
$4,350

---

---

---

---

---

Classic Gold Commemoratives – Struck between 1903 and 1926 most these coins are one dollar gold pieces. The exceptions being the $2 1/2 Sesquicentennial, the $2 1/2 Pan-Pacific Exposition, the $50 Pan-Pacific "Round" and $50 Pan-Pacific "Octagonal".  A "set" usually refers to 11 coins – two $2 1/2 gold pieces and ten $1.00 gold pieces. This series is woefully undervalued and presents a wonderful opportunity to build rarity into your holdings. Insider tip – when the US Mint struck these historical gold coins those that were not sold were melted (so mintage's are not an accurate gauge of rarity) and many were defaced by the jewelry trade when hat pins were the rage. High grade examples are scarcer than price would indicate.

---

---

---

---

---

US Pattern Coins – Uniquely interesting – hugely  popular – patterns are US Mint "idea" coins which were never placed into regular production. All are rare and a few have a wonderful dark side – "made to order" at night for important collectors or dealers. A mint official "perk" at the time to make a little extra money, today it would land you in prison.

---

---

---

---

---

3c Nickel 1868 J-618 – Proof Cameo
1868
PCGS
PR65CAM
$2,750

---

---

---

---

---

25c 1869 Standard Silver J-721 – Proof
1869
NGC
PF66
$2,700

---

---

---

---

---

50c 1859 Silver Longacre Design J-239 – Proof
1859
PCGS
PR60
$1,675

---

---

---

---

---

$1 1879 Silver Barber Goloid J-1617 – Proof
1879
NGC
PF65
$4,350

---

---

---

---

---

United States Error Coins A wonderful area of rare coin collecting and investing – mistakes which somehow were released into circulation to the delight of everyone except the US Mint. One of the standard references is The Error Coin Encyclopedia by Margolis and Weinberg, a fascinating read.

---

---

---

---

---

1c 1966 Struck on a clad 10c planchet
1966
PCGS
MS64
$420

---

---

---

---

---

5c 1965 Struck on a copper 1c planchet
1965
PCGS
MS64RED
$480

---

---

---

---

---

25c No date Delaware struck 65% off center
No Date
PCGS
MS65
$190
---
STARTING A CERTIFIED RARE COIN PORTFOLIO
What does a model portfolio consisting of certified rare coins graded by PCGS or NGC look like? There are many variations and the above selection represents what we hope will be an interesting beginning. If you are looking for something specific call us toll free (1-800-225-7531) and ask for a check of our complete inventory or email richard@golddealer.com – there is never any obligation and I'm happy to help or answer questions.
In the meantime consider three reasons as to why placing hard asset money into this area makes sense: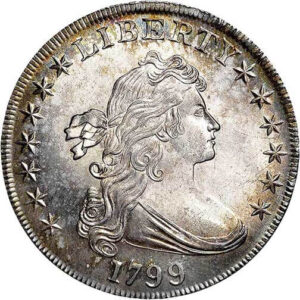 First, certified coins offer an alternative to storing wealth which also protects against 3rd party intrusion.
Second, certified rare coins offer financial privacy and are fun because they are historically important.
Third, we believe many certified rare coins are undervalued and so offer investment potential.
The bullion portion of your portfolio is simply a choice of bullion coins or bars. But what about the choice of certified rare coins when it comes to investment balance? We offer a few rules here to get you started.
WHICH ARE THE BEST EARLY RARE COINS?
Which certified rare coins should you consider for long-term investment? In fact no person knows for sure, but there are parameters, which will lead you in the right direction. Look for coins which interest you – the more interest the more enjoyment – an added benefit. Early type, colonial coins, patterns, or better date silver dollars are a good start and these build good habits which lead to treasure and satisfaction.
THE RARITY VERSUS DEMAND SECRET
Rarity by itself is not the best way to approach this unique area. Rarity is good, but if there is no demand for a coin its rarity will be of little value. Link rarity with demand. Many certified coins are rare, but their popularity is what pushes their price dynamic.
WHICH GRADE IS BEST? AND WHAT ABOUT EYE APPEAL?
It is important that your certified coins are graded by PCGS (The Professional Coin Grading Service) or NGC (Numismatic Guaranty Corporation). This enhances liquidity and evaluation. Rare coins are graded using the Sheldon Scale from 1 to 70. The higher the number the better the condition and the more elusive the coin. Generally as rarity and popularity increase so does price. You are looking for a balance between rarity and affordability.
At the same time "eye appeal" or what makes the coin "attractive" is very important. The insider tip here is deal with professionals who understand what "premium quality" looks like within the grade range. An example here might help, let's say you are looking for a particular coin graded by PCGS in MS-65 condition. The insider's tip here is simple, not all coins graded PCGS MS-65 are created equal – the same is true for all grades.
Some coins barely made the grade and some are so nice they were almost given a higher grade – this is called the "grade range". And understanding how it works will make your investment job more successful. The coin trade uses a special word to identify these exceptional examples – it's called "pop". And owning coins with "pop" is the most important step you can take in understanding rare coin success.
Look for material which falls into the higher end of the grading range – be patient and avoid lesser quality examples regardless of price.
How do you know your possible choices are special? Ask your representative how these coins were selected.
If the answer is vague or you are told "They are certified and so they are all are the same." Be careful. Good coin companies know it's good business to use trade experts to make their inventory sparkle – many have graded for PCGS or NGC and fully understand the "grade range". Surprisingly some companies do not – they are simply interested in selling a "widget" – make sure you are doing business with the right kind of company.
INTERESTING STORIES ARE IMPORTANT
Certified rare coins with an interesting story are better choices. Stories and the history behind them bring these treasures to life. The more compelling the story the better the opportunity to build valuable holdings and the more satisfying ownership becomes. To understand this concept consider a series of books which unfortunately are no longer in print but can be found on Amazon called The Numismatist's Companion – edited by Q. David Bowers. These small books were published in the 1980's and present a wonderful look at the sometimes eccentric people, unlikely places and turbulent times which are now the foundation of today's rare coin business.
CONSIDER MARKET CYCLES
The price history of certified coins will tell you where in the cycle you are and provide clues which lead to good decisions. People who have a strategy are better equipped because they develop a long-term plan taking advantage of "up" and "down" markets. They do their homework and choose attractive early rare coins. Past performance does not guarantee future results but it's a good place to begin.
THE KEY IS LOOKING FOR VALUE
Some rare coins today can be purchased for less than their old highs which might suggest a value buy. On the other hand there are coins which are trading on their highs, do not dismiss these possibilities, but you want to identify both sides of the spectrum in making an informed choice.
Follow the "50 year rule" – it keeps you focused. Never invest in a rare coin which is not at least fifty years old because without an established price record the outcome becomes unpredictable. Choose early "coins of significance" – modern issues and certified bullion coins are easily overpopulated.
Building a powerful collection creates value, a journey through history and is fun to boot – but requires patience. If you have a bunch of "old stuff" consider consolidating into "better" material with a theme. Read a few rare coin books along the way. There is an old adage in this trade which says "buy the book before the coin" – the more you know the better your results. If you are looking for a good start consider Yeoman's Guide Book to United States Coins. It is the best overall introduction and reference to US rare coins available today.
Finally, keep in mind we actively buy, sell and trade material. If you have certified rare coins you no longer want and are looking for a cash offer, or want to trade something you have for something we have (rare coins or bullion) just send me an email (richard@golddealer.com) suggesting what you think is fair – maybe we can do some business. Buying, selling and trading is a great way to improve your holdings and get a realistic idea as to value. Thanks for stopping by and if you want a written answer to your question contact me using this link – Ask an Expert