Read Carefully & Consult More Than One Source Before
Deciding What Best Suits Your Needs 
Risk disclosure is an important first step in understanding the world of buying and selling the precious metals or rare coins. The second step is realizing that the precious metal and rare coin pricing markets are highly random and can move in opposite directions. At times price trends in these unique asset classes are inflation driven and sometimes inflation trends can be ignored for decades. To complicate matters prices vary considerably from dealer to dealer. So it pays to shop around. Due diligence is part of being well informed and a must for good stewardship.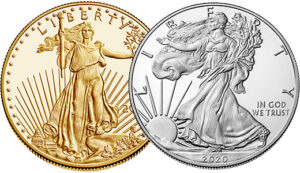 No one, including California Numismatic Investments (GoldDealer.com) knows what the future holds. These markets can trend dramatically higher or lower. And sometimes remain sideways for extended periods of time. The good news is that our representatives have years of experience, are not commissioned and are eager to help answer your questions. Risk disclosure. They do not however offer legal, investment or tax advice. For these important areas it is best to consult a tax professional or independent financial adviser familiar with your unique circumstances before deciding on a course of action.
Buying or selling the precious metals and rare coins also involve a high degree of risk because they are extremely volatile. You could profit in a rising market or lose money in a falling market. And "premiums" can move up or down quickly, being driven by public demand or changes in world mint production policies. Our live "bid" and "ask" prices are "indications" only and must be confirmed by phone with a live trader. Who will then provide an invoice or purchase order which you can examine to make sure all information is correct and to your satisfaction. Because of these and other factors related to the movement, insurance and storage of physical precious metals or rare coins these assets may not be suitable for all individuals. Risk disclosure. Do not place a "buy" or "sell" order unless you fully understand and accept these changing risks. If you have questions or concerns please e-mail Ask An Expert before proceeding. Thanks for reading and have a blessed day.