Ask An Expert
Get Answers To Your Questions about
Precious Metals Rare Coins and Sensible IRA Choices
Hello – my name is Richard Schwary and I would like to welcome you to Ask An Expert, one of the great places on the net to find honest answers about buying, selling, trading or understanding more about the precious metals business and certified rare coins.

Ask An Expert is written to help you figure out this sometimes confusing world and can be a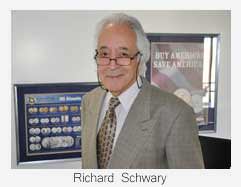 valuable tool – providing answers to questions like: "I have an old coin collection and I'm just curious as to its fair value?" or "What is a ballpark price for this coin or that banknote?" or "Can you explain my options for buying or selling?" or "I'm thinking about gold and silver for my IRA – which choices make good sense and which should be avoided?"
Ask An Expert About Rare Coins or Precious Metals is also handy if you are looking for industry terminology: What is a matte proof, or high relief? Are mint marks important and where are they located? Is my coin rare or common and why? What's the difference between a token and a legal tender coin? How is condition and value related? What do all these grading definitions mean?
Ask an Expert will offer an opinion on most anything related to US rare coins, precious metals or paper money. Explain why independent certification is sometimes in your best interest and point out the difference between major certification services.
If you are considering the auction process I will even include a few money saving tips which will put a smile on your face.
And best of all the price of admission is free.
Any of your most important questions can be sent to me at Ask an Expert and you will receive a confidential reply within one business day. There is no obligation and this is a no-sell zone – just learning. So ask away – you would be surprised at how many folks already use this service. I am a 30 year member of The Professional Numismatists Guild (#365), which was founded in 1955 and is dedicated to knowledge, integrity and responsibility in the rare coin business.
Let me hear from you on any matter large or small. Also consider the Gold Newsletter for an insider's view without the usual nonsense. Finally let me suggest that if you want to learn more about rare coins and their prices a copy of A Guide Book of United States Coins by R.S. Yeoman ($15.00 any bookstore) is the first best step.
Thank you for reading – your interest in rare coins and precious metals is greatly appreciated!