Let Us Know How We Are Doing
Hello – my name is Richard Schwary. For 37 years we all have worked hard at being a reliable and trusted source within the precious metals business.  We are proud of our long standing Better Business Bureau A+ rating and always look for specific ways to improve your experience.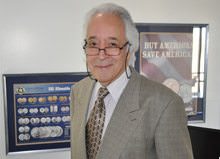 Our reputation for superior pricing, reliable delivery, immediate payment and fair treatment is the cornerstone of our mission statement.
And your opinion is the most important part of this process. Whether you are buying or selling I want to do everything possible to ensure that each step of the process is up to your standard of excellence.
If even the slightest detail is overlooked please let me know personally and right away. I promise the situation will be corrected immediately and to your complete satisfaction.
If you are new to our precious metals family – thanks for the business. If you are a long term customer – thanks for helping us provide one of the highest repeat business ratios in our industry.