What Are My Coins Worth?
Answers To Investment Questions about Rare Coins and Precious Metals
My name is Richard Schwary and you can take the first step in finding out more about rare coins or precious metals by using Ask an Expert. 
I enjoyed being a price contributor to the Red Book (A Guide Book of United States Coins by R.S. Yeoman) for many years and an Expert Witness in the State of California when it comes to precious metal and rare coin valuation. I am also a member of The Professional Numismatists Guild (#356) and proudly served as PNG President from 1997 through 1999.
Helping you build an accurate pricing picture in a quickly changing market can be fun and educational. So welcome to one of the great places on the net to find an honest answer to questions about your precious metals or rare coins.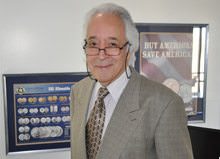 Many of your price questions can be answered if you supply a short coin description. Sometimes the coins are certified by PCGS or NGC and this makes for an easier answer especially if there is recent pricing information available. Sometimes a scan of your coin is necessary to get an accurate answer, but one thing is sure; with a small amount of homework on your part I can help you better understand value.
Perhaps you need help with an industry grading term or phrase. No problem, just describe your situation and use Ask an Expert for an answer.
If your rare coin or banknote is better suited to auction I will be happy to explain a few important rules and describe the major auction houses.
Your questions large or small are important, so feel free to ask away. Expect a confidential answer and you are under no obligation.
Thanks for reading and have a blessed day. rs