Pamp Suisse Rhodium 1 oz
-Call for Availability and Pricing-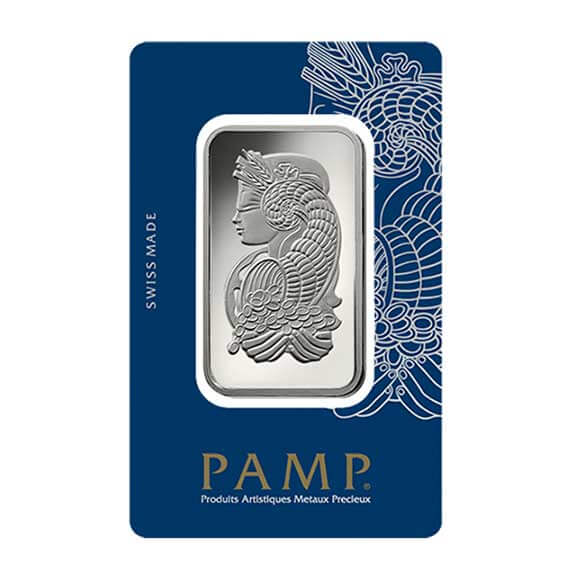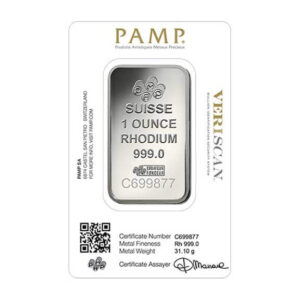 Prices and availability change without notice. Bid prices adjusted to order size. Rhodium is a volatile and thinly traded. There are times when the overseas market is not available and a transaction cannot be made. Thank you for your understanding. 
Original undamaged packaging only.
Toll free (800-225-753)
Gross Weight: 1 troy oz
Fineness: 999.0 fine
Rhodium Content: 1 troy oz
Dimensions: 3 3/8″ x 2 1/8″
---
The Pamp Suisse Rhodium 1 oz is an excellent way to diversify your precious metal holdings as the American public becomes more familiar with the PGM (Platinum Group Metals) and the industrial use of rhodium grows worldwide.
The annual world production of rhodium is 1/10th the amount of platinum produced. The pictured Pamp Suisse Rhodium Bar 1 oz is produced in Switzerland and is guaranteed by PAMP. Main rhodium  exporters are Africa and Russia.
The bar is struck which produces a fine reflective surface and features raised lettering indicating the manufacturer (PAMP). It also includes – ONE OUNCE – purity and description (999.9 Fine Rhodium) and features a 7 digit incused serial number with PAMP's new Veriscan technology. The bar is sealed in a plastic holder which includes the assay card.
Advantages of the Pamp Suisse Rhodium 1 oz: (1) PAMP is a world renowned refiner which guarantees this 1 oz bar as to weight, purity and fineness. This allows precious metal dealers to post buy and sell prices which fluctuate directly with the world price of rhodium. (2) Because this bar is an accepted bullion product its premium over spot is small and attractive to bullion investors. (3) The choice of the Pamp Rhodium 1 oz size allows investors options when buying or selling over larger rhodium bars. (4) Investment in rhodium is growing because of its use in automobile catalytic converters. (5) The Rhodium Bar is not reportable on (Federal Form 1099B) when buying or selling.
We are happy to answer questions about the Pamp Suisse Rhodium Bar 1 oz – Ask an Expert
Visit our Audio Gold News Page for information on the precious metals market.