Description
American Gold Eagle 1/10 oz 2023
Brilliant Uncirculated Condition
The American Gold Eagle 1/10 oz 2023 is a popular gold bullion choice worldwide. In 1986, the United States Mint introduced the American Gold Eagle series in four sizes (1 oz, ½ oz, ¼ oz and 1/10 oz). From 1986 through 1991 the US Mint used Roman Numerals. In 1992 they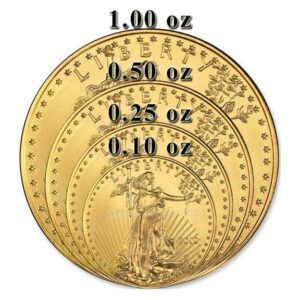 began using Arabic Numerals.  
The front of the coin features Liberty, a depiction taken from the famous $20 gold piece (1907-1933) designed by Augustus Saint-Gaudens.
The back of the American Gold Eagle 1/10 oz 2021 features a family of eagles and includes United States of America, E Pluribus Unum, In God We Trust, weight (1/10 oz fine gold) and its symbolic legal tender value ($5).
Because of its popularity the US Mint produces quantities of the American Gold Eagle 1/10 oz each year – all of which closely follow the price of gold. 
Other reasons for its popularity are: (1) The American Gold Eagle 1/10 oz 2023 appeals to a worldwide audience because of its low premium. And it is a popular choice for Individual Retirement Accounts. (2) The coin is easy to buy and sell because dealers worldwide post daily buy and sell prices. (3) The Gold Eagle contains one tenth ounce of the gold so valuation is simple.  (4) The US Mint places 50 of these gold coins in a plastic tube which allows for easy storage. (5) This coin also has a following in the "survival" community. Those who want a real US gold legal tender coin of smaller denomination for daily needs in case of emergency.  
The US Gold Eagle 1/10 2022 oz has no dealer reporting requirement (Federal Form 1099B) when you buy or sell.
We are happy to answer questions about the American Gold Eagle Series – Ask an Expert
Visit our Audio Gold News Page for information on the precious metals market.  Updated daily.