Description
Chinese Silver Panda 30g
Brand New Condition – Dates Our Choice
The Chinese Silver Panda is one of the most popular limited edition pure silver coins minted today. It was first introduced by the People's Republic of China in 1983 and is struck each year using the highest production standards in the industry. The reverse of the coin features the famous Giant Panda and includes the weight 30g, the chemical symbol for silver (Ag) and the coin's purity (.999). The reverse features the Temple of Heaven and the date.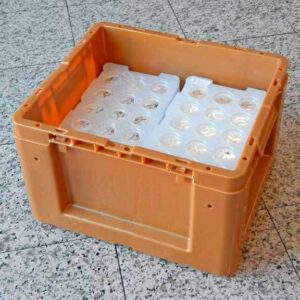 The surfaces are beautifully crisp, well-designed, mirror-like and frosted. This pure silver coin is guaranteed by a sovereign country and its distribution is government controlled. The Chinese Silver Panda is nice sized with a diameter of 40 mm or 1.57 in. This silver bullion coin also struck with a reeded edge for extra security.
One of the features which makes this series very collectible and charming is the changing of the Panda picture each year. The Chinese Silver Panda also contains various other symbols said to bring the owner good luck and fortune.
Because the coin is produced by a sovereign nation it carries a legal tender value of 10 Yuan, which while symbolic adds to its international stature. The Chinese Mint spares no expense in promotion and packaging as single Chinese Silver Panda coins are housed in a mint produced hard plastic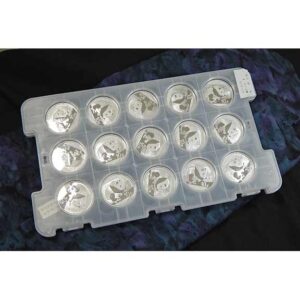 container. These are then resealed between durable see-through plastic sheets which hold 15 coins (our minimum order for this silver bullion product).  Because the above pictured Chinese Silver Panda features live pricing figuring the cost of your order size is easy.
The famous China Mint's Chinese Silver Panda Monster Box contains 30 sheets of 15 coins each or 450 coins in total. So the pictured Monster Box contains 50 coins fewer than the standard US Eagle Monster box or the Canadian Silver Maple Leaf Monster Box both of which contain 500 coins each.
GoldDealer.com discounts the above live unit price when ordering the Chinese Silver Panda Monster Box (450 coins) and guarantees the best price in the country so call Ken Edwards directly (1-800-225-7531). To read more about the Chinese Panda visit PandaCollector.com
Visit our Limited Mintage Bullion Page for our other Wildlife Coins.