Description
Morgan Silver Dollar – Extra Fine (1878-1904)
By the Roll (20 coins) – 100 Count Bag or 500 Count Bag
The Morgan Silver Dollar – Extra Fine (1878 – 1904) is an iconic example of a silver legal tender coin struck during America's "golden age" of hard money. The Morgan Silver Dollar was designed by George T. Morgan and was the business coin of choice in early frontier towns of the old West.
The Morgan Silver Dollar – Extra Fine (1878 – 1904) contains 0.77 ounce of pure silver and saw wide usage in business transactions both in this country and abroad. These coins were minted in the many different mints and the mint mark is on the reverse of the coin, below the wreath under the Eagle's tail.
Between 1878 and 1904 approximately 555 million coins were minted. All are .900 fine silver and much of the famous Comstock Silver Load made its way into these historical silver dollars.
Original coins in higher grades like Extra Fine are not readily available because of the infamous Pittman Act which allowed the melting of almost 300 million coins.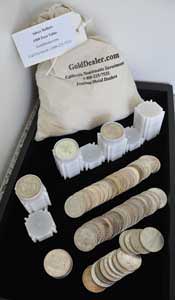 All Morgan Silver Dollar – Extra Fine (1878 – 1904) are carefully chosen and graded by experts. They are subject to availability and prices can change without notice. They trade for a premium over their melt value for several reasons. There is a large collector base which eagerly seek higher grade circulated examples because of their scarcity and historical interest. And because they are no longer minted higher demand creates higher premiums. Finally these large US silver dollars have been recognized worldwide as a store of value for more than 100 years.
The Morgan Silver Dollar – Extra Fine (1878 – 1904) offered here are dates and mint marks of our choice. They are problem free examples based on ANA Grading Standards. There are no culls, cleaned or damaged examples. They are packaged in durable plastic tubes of 20 coins or canvas bags which contain 100 or 500 coins. We always guarantee your satisfaction or simply return the coins for replacement or a complete refund. 
Check out our Silver Dollar Morgan List or our US Gold and Silver PCGS Certified Page for more information.