Silver Dollars – My Morgan List
Hidden Profits In High Grade
Morgan Silver Dollars (1878-1921)
This Series Is One Of My Two Favorite Choices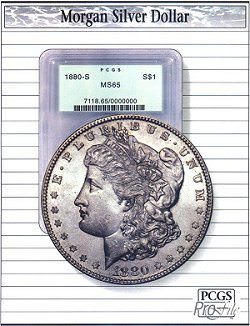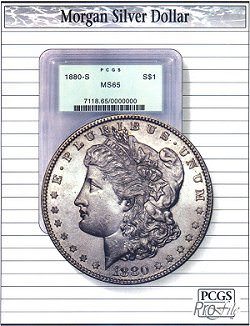 The Morgan silver dollar, named after designer George T. Morgan, is one of the most widely collected and studied silver coins ever produced by the US government. This investment grade silver dollar can provide healthy profits for reasons most investors completely overlook, yet nearly everybody can get started regardless of their investment budget.
The timing could not be better regarding this investment as one of the most fascinating books on the Morgan Silver Dollar has been published by rare coin author Q. David Bowers. The Official Red Book of Morgan Silver Dollars (Whitman Publishing LLC) provides Bower's insight along with pricing and history on one of America's favorite rare coins.
There are a number of compelling reasons to invest in Morgan Silver Dollars and all focus on its history and origins of its notoriety. Most Morgan Silver Dollars were produced in large quantities because of the infamous deal struck between early Nevada silver producers and the US Mint. These silver producers of the Comstock Lode had an oversupply of silver and America had unemployed workers, a combination that likely led to the Bland-Allison Act of 1878 which authorized the new Morgan Silver Dollar. It was legislated that silver from the Comstock Lode was designated specifically to produce large quantities of Morgan silver dollars with the intended benefit of helping with the unemployment problem. As is sometimes the case with government intervention, the plan wasn't well designed and a great deal more coins were minted than were needed for everyday commerce, necessitating costly government storage of the surplus. Finally in 1918, the burden of storage was addressed, and under provisions of The Pittman Act, almost 300 million of these silver dollars were melted, without regard or record as to date or mint mark. This unfortunate action has led to one of the great investment opportunities in America's most prized silver coin.
8 Reasons Which Could Influence Your Decision


Including My First, Second, and Third Investment Rules
1. The Morgan silver dollar is one of the most important and well-known silver coins ever minted. It is more popular than $20 gold pieces, more popular than type coins and even more popular than commemorative coins. It literally stands for and represents the Old West and the lore that goes with stagecoach delivery and mining towns. It is also the first of two early silver coin series which are my favorite non-bullion choices.
2. The Morgan silver dollar is not obscure but a virtual price barometer of the coin business. Analysis of rare coin prices places importance on this series because it is widely held and historically significant. But the driving force behind my recommendation is that many high grade coins within the series are just too cheap. In fact they now trade for about the same price as much more common modern issues.
3. The authorized melting of almost 300 million coins in 1917 created investment opportunities whose upside is still being analyzed. The Morgan silver dollar was produced at 5 different mints over a span of 28 years and so contains dates and mint-marks that are overlooked even today. And the popularity of this important silver coin insures a wide distribution meaning past graded examples are in strong collector hands so even large dealers only have access to limited numbers regardless of demand.
4. With the inception of PCGS grading, the coin's condition and authenticity are guaranteed since PCGS employs only world-class graders, who independently agree on the coin's grade. A PCGS grade is as well respected as Abe Lincoln's word and you can learn why by watching: The PCGS Grading Process Video
5. Rare coins are graded using the Sheldon Scale of 1 to 70 and the higher the number the better the coin's condition. Choosing the correct grade is important because investment by condition is a hallmark of rare coin success. Most Morgan dollars saw immediate circulation because they were needed for commerce. This process pushed the number of uncirculated examples lower and collector demand for mint state examples pushed prices higher: Which leads to my First Investment Rule: The most important grade is Mint State 65 (MS 65) or Gem Uncirculated, because the number of coins graded decreases dramatically but in many cases the price point remains attractive.
6. Since the advent of independent certification by The Professional Coin Grading Service, records of the total number of Morgan Silver Dollars graded by condition are published each month. A simple peek at the PCGS Population Report will reveal the exact number graded and their assigned grade. Using population numbers and the selling price leads to my Second Investment Rule: You can figure each coin's Benefit Factor which is a simple way to choose the coin with the best investment value. What is even more fun is that this technique is not widely understood and can be verified with a calculator.
7. The Morgan Silver Dollar is one of America's most beautiful coins. Our dignified Miss Liberty is on the front (called the obverse) and a majestic eagle whose wings are outspread, holding an olive branch in one talon and a bundle of arrows in the other is on the reverse. This coin is a classic from the golden age of U.S. coin design. The grade of these coins is guaranteed by PCGS but it is important to remember that the coin's eye appeal is paramount. That is why I hand select each example insuring they are "blast white" and fall within the top portion of the grade range. I use 30 years of experience to provide this "extra value" at no extra cost which leads to my Third Investment Rule: Morgan silver dollars with great eye appeal always deliver better price performance.
8. This graph will illustrate that today's pricing presents historically low premiums and a better chance of long term investment success.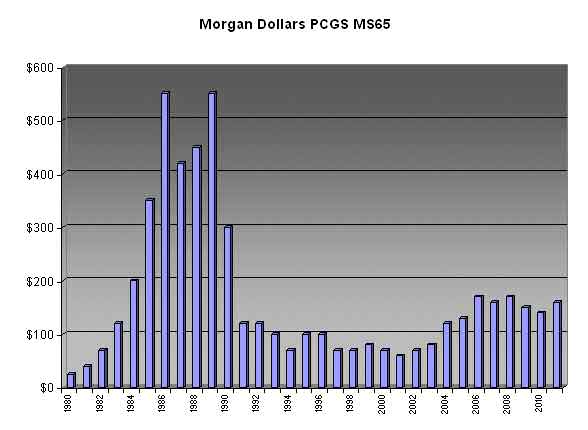 LEARN MORE ABOUT ONE OF MY FAVORITE SILVER SERIES
Invest $4000 And Take Advantage Of My 5% Discount Rare Coin Club
1. Call toll free (1-800-225-7531) with your questions and I will offer more insight including a few potential pitfalls because all coin choices involve some risk. Also keep in mind that while my pricing list is complete it is only a reference. I rarely have all coins for two reasons: First, while the technical grade of MS 65 is guaranteed by PCGS I choose examples which fall into the higher end of that grade range. Second, these carefully chosen coins must also be blast-white in color. This approach does not cost you more but offers hidden investment value because coins with superior "eye appeal" are like owning beach front property.
2. There is nothing which can replace holding these gem uncirculated 100 year old Morgan dollars in your hands so here is my Risk-Free Offer: If you believe, as I do, that classic silver coins represent a great opportunity call and inquire about availability. There is no obligation and this will allow us to custom fit this investment to your specific needs regardless of your budget. If you decide to place an order the coins will be hand selected, premium quality PCGS MS 65 examples and we even pay for shipping and insurance.
Your satisfaction is guaranteed and if you are not delighted simply return the coins within 7 days for a complete no questions asked refund. And by the way your $4000 purchase makes you part of my 5% Rare Coin Club which gives you a 5% discount on future rare coin investments. It is just my way of saying thanks for considering one of my favorite rare coin choices.
Thanks for reading.
Ken Edwards
1-800-225-7531
Read more about the Morgan Dollar online
Copyright © 2011 CNI, Inc.- The Morgan Dollar Report
MORGAN DOLLARS CERTIFIED BY PCGS MS65 – Gem Uncirculated
Premium Quality – Hand Selected Within The Grade Range
| | | | | | |
| --- | --- | --- | --- | --- | --- |
| PCGS No | Date | MS65 pop Jun. 15, 2017 | Rarity | Price | Benefit Factor |
| 7072 | 1878 8TF | 784 | 68 | $1,375 | 6.2 |
| 7076 | 1878 7TF Rev 79 | 442 | 121 | $1,800 | 8.4 |
| 7080 | 1878-CC | 2154 | 25 | $1,330 | 2.2 |
| 7082 | 1878-S | 4504 | 12 | $270 | 5.5 |
| 7084 | 1879 | 1218 | 44 | $600 | 8.2 |
| 7090 | 1879-O | 428 | 125 | $2,600 | 5.8 |
| 7092 | 1879-S | 25345 | 2 | $120 | 2.1 |
| 7096 | 1880 | 1249 | 43 | $550 | 9.8 |
| 7100 | 1880-CC | 2638 | 20 | $1,100 | 2.3 |
| 7118 | 1880-S | 36546 | 1 | $120 | 1.5 |
| 7124 | 1881 | 1249 | 43 | $570 | 9.3 |
| 7126 | 1881-CC | 4829 | 11 | $900 | 1.5 |
| 7128 | 1881-O | 764 | 70 | $1,050 | 8.4 |
| 7130 | 1881-S | 53593 | 1 | $120 | 1.0 |
| 7132 | 1882 | 1726 | 31 | $420 | 9.2 |
| 7134 | 1882-CC | 5695 | 9 | $420 | 2.9 |
| 7136 | 1882-O | 1075 | 50 | $890 | 6.7 |
| 7140 | 1882-S | 18874 | 3 | $120 | 2.8 |
| 7142 | 1883 | 4468 | 12 | $160 | 8.9 |
| 7144 | 1883-CC | 8772 | 6 | $410 | 1.8 |
| 7146 | 1883-O | 8736 | 6 | $140 | 5.2 |
| 7150 | 1884 | 2476 | 22 | $280 | 9.3 |
| 7152 | 1884-CC | 8240 | 7 | $410 | 1.8 |
| 7154 | 1884-O | 15495 | 3 | $120 | 3.5 |
| 7158 | 1885 | 9053 | 6 | $145 | 5.1 |
| 7160 | 1885-CC | 4415 | 12 | $1,100 | 1.4 |
| 7162 | 1885-O | 20383 | 3 | $135 | 2.4 |
| 7164 | 1885-S | 574 | 93 | $1,600 | 7.3 |
| 7166 | 1886 | 16699 | 3 | $130 | 3.0 |
| 7170 | 1886-S | 375 | 143 | $2,000 | 8.9 |
| 7172 | 1887 | 17648 | 3 | $145 | 2.6 |
| 7176 | 1887-O | 368 | 146 | $1,900 | 9.6 |
| 7180 | 1887-S | 459 | 117 | $2,100 | 7.0 |
| 7182 | 1888 | 4017 | 13 | $210 | 7.9 |
| 7184 | 1888-O | 2320 | 23 | $450 | 6.1 |
| 7186 | 1888-S | 357 | 150 | $2,400 | 7.8 |
| 7188 | 1889 | 2347 | 23 | $300 | 9.5 |
| 7194 | 1889-S | 735 | 73 | $1,450 | 6.3 |
| 7196 | 1890 | 691 | 78 | $1,200 | 8.1 |
| 7198 | 1890-CC | 352 | 152 | $3,600 | 5.3 |
| 7200 | 1890-O | 746 | 72 | $1,450 | 6.2 |
| 7202 | 1890-S | 874 | 61 | $1,050 | 7.3 |
| 7206 | 1891-CC | 699 | 77 | $3,600 | 2.7 |
| 7210 | 1891-S | 530 | 101 | $1,250 | 10.1 |
| 7240 | 1896 | 5185 | 10 | $155 | 8.0 |
| 7246 | 1897 | 1887 | 28 | $300 | 11.8 |
| 7250 | 1897-S | 1285 | 42 | $490 | 10.6 |
| 7252 | 1898 | 2605 | 21 | $200 | 12.9 |
| 7254 | 1898-O | 12986 | 4 | $135 | 3.6 |
| 7256 | 1898-S | 465 | 115 | $1,400 | 10.3 |
| 7258 | 1899 | 1410 | 38 | $160 | 29.7 |
| 7260 | 1899-O | 8516 | 6 | $165 | 4.5 |
| 7262 | 1899-S | 518 | 103 | $1,700 | 7.6 |
| 7264 | 1900 | 4247 | 13 | $175 | 9.0 |
| 7266 | 1900-O | 6956 | 8 | $175 | 5.5 |
| 7268 | 1900-O/CC | 847 | 63 | $1,750 | 4.5 |
| 7270 | 1900-S | 605 | 89 | $1,300 | 8.5 |
| 7274 | 1901-O | 3143 | 17 | $160 | 12.7 |
| 7278 | 1902 | 1725 | 31 | $360 | 10.8 |
| 7280 | 1902-O | 5197 | 10 | $155 | 8.0 |
| 7282 | 1902-S | 380 | 141 | $1,800 | 9.8 |
| 7284 | 1903 | 3355 | 16 | $220 | 8.7 |
| 7286 | 1903-O | 2415 | 22 | $670 | 4.1 |
| 7290 | 1904 | 318 | 169 | $1,900 | 11.1 |
| 7292 | 1904-O | 12479 | 4 | $125 | 4.4 |
| 7294 | 1904-S | 145 | 370 | $8,300 | 5.6 |
| 7296 | 1921 | 5484 | 10 | $135 | 9.1 |
| 7298 | 1921-D | 1964 | 27 | $310 | 10.8 |
| 7300 | 1921-S | 1180 | 45 | $700 | 8.1 |