Pre-1933 Mint State PCGS US Gold & Silver Coins
Diversification and Value – Call for Buy or Sell Pricing
Looking for PCGS certified gold and silver coins from the 19th and 20th Centuries? Here we suggest choices and include information on the gold standard. We buy and sell the "traditional value range' – Mint State 63 through Mint State 67. These markets are volatile so please call Customer Service (1-800-225-7531) to confirm availability and pricing. Thanks for your interest and if you prefer a written answer consider – Ask an Expert
Reasons High Grade Certified Gold and Silver Coins
Should Be Added to Your Bullion Position
1. PCGS certified gold and silver coins are scarce and have wide general appeal. They are also historically important.
2. High grade PCGS certified coins are easily recognized and traded in this country and abroad. Investors and government treasuries value United States gold and silver coins, and for good reason. They know these assets represent true wealth and are immediately liquid.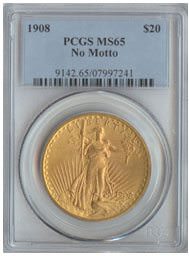 3. The history behind these gold and silver coins makes them a part of America's "golden era" of numismatics. The designs are classic and because these certified coins are dated you can easily wonder if they were part of a fabled treasure. Or were once hidden by a family seeking safety in an uncertain world.
4. Many pre-1933 gold and silver coins became worn in daily commerce. Many were melted during the Great Depression. World banks took advantage of Nixon closing the "gold window" and stored these coins as reserve assets. These dwindling treasure troves are the source of our recommended mint state examples.
5. Today's numbers are compelling and make the contrarian investment case because these high grade gold and silver coins trade at substantial discounts to old highs. Only about 10% of the population invests in gold or silver. Most Americans still look to Wall Street and the banking system. This suggests a first rate, ground floor opportunity.
6. Certified gold and silver coins are portable and quietly moved at a moment's notice. They present excellent liquidity in times of trouble and can be stored in a small safe deposit box. They need no special care and are a wonderful way to build family wealth while telling a uniquely American story.
7. Our coins are hand selected by experts from the high end of the grading range. Offering brilliant eye appeal. So why settle for "just average"?
To ask questions. Or place an easy "buy" or "sell" order call Customer Service (1-800-225-7531).

Early PCGS graded gold and silver coins have a no-questions-asked 7-day return privilege. Thanks for stopping by and enjoy a blessed day!
To learn more about the precious metals listen to Alex Sanchez daily – Audio Gold News Page