Product Description
American Gold Eagle 1 oz
The American Gold Eagle 1 oz is the most popular bullion coin choice in the United States. In 1986, the United States Mint introduced the American Gold Eagle series, minted in four sizes (1 oz, ½ oz, ¼ oz and 1/10 oz). From 1986 through 1991 the US Mint dated the coins using Roman Numerals. From 1992 through the present traditional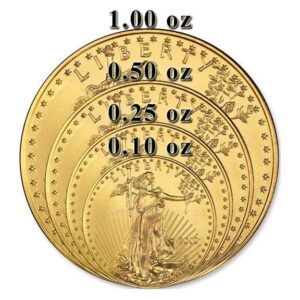 Arabic Numerals are featured.  
On the front of the coin is a depiction of Liberty taken from the famous $20 gold piece (1907-1933) designed by Augustus Saint-Gaudens.
The back features a family of eagles and includes United States of America, E Pluribus Unum (from many, one). It also features In God We Trust, weight (1 oz fine gold) and legal tender value ($50). 
The US Mint produces quantities of the American Gold Eagle 1 oz in sparkling mint condition to ensure it will remain a leader in the gold bullion market. The legal tender value is symbolic as the American Gold Eagle 1 oz fluctuates directly with the price of gold.
The total US Mint production of the American Gold Eagle 1 oz between 1986 and 2007 was 11,303,576 coins. Between 2008 and 2014 the US Mint yearly production for the American Gold Eagle 1 oz was: 2008 (710,000) – 2009 (149,300) – 2010 (1,125,000) – 2011 (857,000) – 2012 (667,000) – 2013 (743,500) – 2014 (415,500).

As you can see the production numbers are significant and there are reasons for this popularity: (1) The American Gold Eagle 1 oz appeals to a worldwide audience and outsells other bullion gold coins within the United States because of its low premium. (2) The American Gold Eagle 1 oz is a popular Individual Retirement Account choice. (3) The American Gold Eagle 1 oz is easy to buy and sell because dealers worldwide post daily buy and sell prices. (4) The American Gold Eagle 1 oz contains exactly one ounce of the gold and is alloyed with a small amount of copper for durability. (5) The US Mint places 20 one ounce coins in a plastic tube which snaps closed and is virtually indestructible. This allows for easy movement and storage.
The US Mint also produces a composite red box which contains 500 American Gold Eagle 1 oz coins (25 tubes of 20 coins). These boxes are built to last, stack easily and are an industry standard for large transactions.
Unlike the Krugerrand (1 oz) or the Canadian Gold Maple Leaf (1 oz) the US Gold Eagle 1 oz has no dealer reporting requirement (Federal Form 1099B) when you buy or sell.
Visit GoldDealerCA on You Tube to see our informative videos on precious metals.