Description
PAMP Suisse Gold Bar Kilo
When investing in the precious metals by weight, the PAMP Suisse Gold Bar Kilo (32.15 oz) is difficult to beat for value and liquidity.
Today PAMP handles over 400 metric tons per year (almost 13 million troy ounces), and ensures, with vigilant attention to product quality, that its brand is recognized worldwide as a guarantee of excellence and sound provenance.
This traditional poured bar features the usual characteristics popular with long time gold bullion investors. They have matte surfaces with bar pouring swirls and rounded edges.
The PAMP Suisse Gold Bar Kilo (32.15 oz) is stamped with the famous PAMP Trademark and the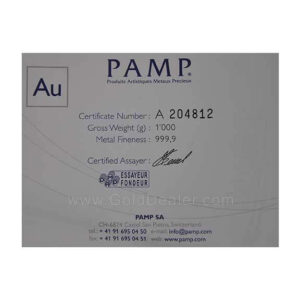 bar's exact weight and purity. Included is the famous PAMP S.A. Switzerland pink Assay Certificate which matches the bar specifications as to weight (Kilo or 32.15 oz), purity (999.9 fine gold) and bar identification number (a six digit serial number stamped into the bar by PAMP).
Both the PAMP Suisse Gold Bar Kilo (32.15 oz) and matching certificate are sealed in tamper proof clear plastic by GoldDealer.com to protect them for shipping, your examination and resale.
There are other reasons to own this bullion standard: (1) the premium over gold content on the PAMP Suisse Gold Bar (32.15 oz) is small and so attractive to investors looking for a bullion product which fluctuates daily with the worldwide price of gold. (2) Because the PAMP Suisse Gold Bar Kilo (32.15 oz) is produced by a renowned refiner its content and purity is accepted worldwide. This allows traders to post daily buy and sell prices which assures liquidity. (3) Because the PAMP Suisse Gold Kilo (32.15 oz) is pure it appeals to a worldwide audience including the Chinese and Asian. (4) The PAMP Suisse Gold Bar (32.15 oz) is a convenient size for investors wishing to buy or sell large gold bullion positions.
There is no reporting requirement when you buy the kilo gold bar. There is however a dealer reporting requirement (Federal Form 1099B) when you sell.
PAMP Suisse (Produits Artistiques de Métaux Précieux) is a metals refinery based at Castel San Pietro, Switzerland.
If you are interested in learning about Precious Metals For Your IRA, we can help!
We are happy to answer questions about the PAMP Suisse Gold Kilo – Ask an Expert
Visit our Audio Gold News Page for information on the precious metals market.