Gold Approaches Two Year Lows
Commentary for Wednesday, Aug 15, 2018 – Gold closed down $15.50 at $1177.50. Obviously the bears are still having their way – as both gold and silver approach 2 year lows. Still, lower prices across the board should not surprise and the lack of fresh speculative money or some bargain hunting along the way will reinforce the bearish scenario.
And what happened to the traditional "safe-haven" buying as the political rhetoric rises over President Trump tweets, Wall Street in the red and the contentious tariff dialogue? The CNBC boys developed an interesting thought this morning – "are traders beginning to worry that the "best" in the latest US economic growth cycle is behind us?"
This is possible and the implications for the dollar are obvious. But is the dollar worried? Look at the Dollar Index, since July it has moved from 94.32 to 96.76 – strong as lye soap – encouraged by higher interest rates and less stable currencies pushing the bullish dollar scenario.
The words for today might be "a small global contagion". Suddenly the world is considering whether the still developing situation between the US and Turkey could escalate into a similar situation between the US and the world.
China a big copper buyer might see manufacturing damage created by tariff problems – copper prices moved to new one year lows today.
The dollar has become the safe haven of choice and with US retail sales up 0.5% future prospects seem bright. Foreign currencies have seen recent devaluations in countries like Turkey, South Africa and China. Even the euro is off balance most likely because of tariff fear.
Like it or not the gold's breakdown in mid-July at $1240.00 continues to encourage the bears. Its most recent break through $1200.00 will bring out the technical guys who are now considering first support at $1150.00 and then $1050.00, gold's most recent low seen in 2016.
I think the $1050.00 number is too extreme but it is important because this is where gold began this latest bullish leg which took prices to $1350.00. At this most recent high traders decided the market was played out after multiple attempts to break into higher ground failed.
So where are we now? Between the rock and hard spot – the psychology of today's market is simple – "lower today, lower tomorrow". This always happens when we are talking about large sell-off numbers. The fact that gold is up considerably since its late 2016 bottom at $1050.00 is a washed out argument and the notion that sooner or later these "lower" prices will create that blow out bottom everyone is looking for sounds too self-serving.
With this type of negative thinking it won't be long before the "gold is useless" argument shows up in all its glory and the traditional paper investment folks try once again to relegate gold and silver bullion to a dusty historical shelf visited by academics.
Don't laugh this is exactly what happened as the American public yawned when given the opportunity to own gold legally in 1975. Pricing faltered at $200.00 and began falling – at something around $130.00 most commentators were bearish. The idea that gold would be 6 or 7 times that number in 5 years was never even a consideration.
So again my advice is to hold tight – think prices are moving even lower – stand aside.
But don't lose your historical perspective – unbacked paper money just does not have much of a long term track record. There are literally thousands of examples where the government printing press has led to financial disaster.
I'm not suggesting this is our fate – but as I have said many times before I don't want all my eggs in one basket. And while adding to your nest egg (outside the traditional financial system) in a falling market is uncomfortable it is exactly the time when the best deals are made.
A few final thoughts, first trying to "catch" that perfect bottom is impossible even for professionals. Keep your eye on the longer term and keep a core position of bullion because you never know when it will come in handy – crisis or not.
Second, watch "premiums" like a hawk – we all have been spoiled by cheap premiums – US Gold Eagles selling for $25.00 over spot were ridiculously cheap. Typically premiums on these popular bullion coins are usually twice that amount. Lesson learned – premiums are subject to change at any time and for any reason.
The dealer does not control premium – it is a function of either the production cycle or demand.
Finally, when premiums are extraordinarily cheap it means that the public is not interested – when premiums are moving higher it a good indicator that demand is heating up.
Premiums on bullion products are moving higher now because cheaper prices are stimulating consumer interest.
This from Zaner (Chicago) – "With the dollar posting yet another higher high to start, risk off action flowing from global equities and a sea of red throughout commodity markets the latest plunge in gold and silver prices is well-deserved. As we suggested yesterday, a 19.2% decline in South African gold production in June compared to year ago levels is virtually ignored in the sagging physical demand environment and few expect supply losses to tighten a market that is seeing investment and physical demand dry up. In fact it would seem as if the bull camp will need a full blown global financial/economic contagion to have any chance of reigniting safe haven buying of gold. However, the gold market from the last COT positioning report to the low this week saw another $24 decline and that should bring the net spec and fund long down to what we label a "liquidated" level and perhaps soon to be "net short" positioning. Unfortunately for the bull camp, gold and silver are commodities facing soft demand and the lack of a definitive bullish technical or fundamental storyline.
The PGM sector was clearly a beneficiary of calmer global risk concerns and while palladium and platinum finished Tuesday in positive territory, they did not climb very far from their recent lows. As if spillover pressure from the soaring Dollar and cratering gold prices weren't enough, the PGM complex saw news yesterday that July South African PGM production came in more than 28% above last year's total. Furthermore lukewarm readings for Chinese industrial production and retail sales may point towards eroding auto catalyst demand from China as well. Platinum saw a reversal from a 3 1/2 week low and came within $1.40 of a key reversal yesterday, but that action is completely lost and the attempt to recover yesterday might have balanced the technical condition enough to facilitate more aggressive selling today. Near-term support for October platinum is now $779.00 while near-term support for September palladium is at $868.50."
Silver closed down $0.61 at $14.42.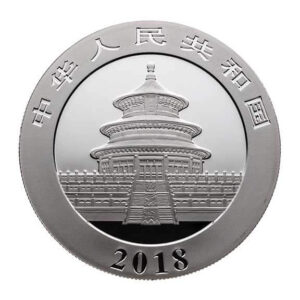 Platinum closed down $29.80 at $786.70 and palladium closed down $52.80 at $845.20.
This is our usual ETF information – All Gold Exchange Traded Funds: Total as of (8/8/2018) was 66,684,125.  That number this week (8/15/2018) was 66,218,982 ounces so over the last week we dropped 465,143 ounces of gold.
The record high for gold ETF's was 85,112,855 ounces in 2013. The record high for Gold ETF's in 2018 was 70,763,846 and the record low for 2018 was 66,218,982.
All Silver Exchange Traded Funds: Total as of (8/8/18) was 656,860,249.  That number this week (8/15/18) was 649,722,425 ounces so this last week we dropped 7,137,824 ounces of silver.
All Platinum Exchange Traded Funds: Total as of (8/8/18) was 2,324,928.  That number this week (8/15/18) was 2,366,532 ounces so this last week we dropped 41,604 ounces.
All Palladium Exchange Traded Funds: Total as of (8/8/18) was 989,315.  That number this week (8/15/18) was 1,004,934 ounces so last week we gained 15,619 ounces of palladium.
The GoldDealer.com Unscientific Activity Scale is a "7" for Wednesday. The CNI Activity Scale takes into consideration volume and the hedge book: (last Thursday – 4) (last Friday – 2) (Monday – 3) (Tuesday – 2). The scale (1 through 10) is a reliable way to understand our volume numbers. The Activity Scale is weighted and is not necessarily real time – meaning we could be busy and see a low number – or be slow and see a high number. This is true because of the way our computer runs what we call the "book". Our "activity" is better understood from a wider point of view. If the numbers are increasing – it would indicate things are busier – decreasing numbers over a longer period would indicate volume is moving lower.
When buying or selling you will receive an email confirmation. This includes a PDF File to confirm your invoice or purchase order and includes forms of payment and bank wire instructions. When doing business please check to see if your current email has been entered into the new system and that your computer will accept our email (no spam). Thanks for letting us know when you move or change your email.
We believe our four flat screens downstairs with live independent pricing are unique in the United States. The walk-in cash trade can see in an instant the current prices of all bullion products and a daily graph illustrates the range of the markets on any given day.
Yes – you can visit the store with cash and walk away with your product. Or you can bring product to the store and walk away with cash. We will also wire funds into your account that same day for a small service fee ($25.00) if you are in a hurry.
In addition to our freshly ground coffee we offer complimentary cold bottled water, Cokes and Snapple. We also provide fresh fruit in a transparent attempt to disguise our regular junk food habits as we sneak down the block for the best donuts in the world (Randy's).
Like us on Facebook and follow us on Twitter @CNI_golddealer – have some fun.
Thanks for reading. As always we appreciate your business and enjoy your evening.
Disclaimer – The content in this newsletter and on the GoldDealer.com website is provided for informational purposes only and our employees are not registered financial advisors. The precious metals and rare coin market is random and highly volatile so it may not be suitable for some individuals. We suggest before deciding on a course of action that you talk with an independent financial professional. While due care has been exercised in development and dissemination of our web site, the Almost Famous Gold Newsletter, or other promotional material, there is no guarantee of correctness so this corporation and its employees shall be held harmless in all cases. GoldDealer.com (California Numismatic Investments, Inc.) and its employees do not render legal, tax, or investment advice.